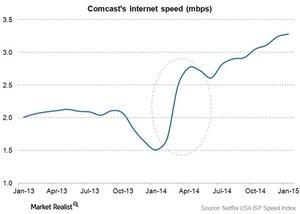 FCC takes net neutrality action and puts broadband in Title II
By Ray Sheffer

Mar. 16 2015, Updated 10:05 a.m. ET
Net neutrality action by the FCC
The FCC (Federal Communications Commission) finally passed a rule on net neutrality on February 26, 2015. The ruling made broadband a telecom service in Title II of the Communications Act. This means that broadband will now be regulated like any other telecom service.
Specifically, the rule prohibits broadband providers from blocking, slowing down, or even speeding up Internet traffic for any legal applications, devices, content, or services. These broadband providers include cable companies such as Comcast (CMCSA) and Time Warner Cable (TWC) and telecoms such as Verizon (VZ) and AT&T (T).
The FCC previously formulated open Internet rules, which were rejected twice by the courts. One such loss for the FCC was its 2010 open Internet rules, which were contested by Verizon.
Article continues below advertisement
Net neutrality has been a much debated global topic. Discussions notably increased with the rise of new OTT (over-the-top) content providers such as Netflix (NFLX). OTT companies do not own the broadband infrastructure over which their customers stream videos. They require broadband services from third parties such as cable companies and telecoms to reach customers.
Netflix on net neutrality
Reed Hastings, Netflix's founder and chief executive officer, has been a supporter of strong net neutrality. According to Hastings, the quality of video streaming on particular networks improved after Netlix agreed to pay interconnection fees. Netflix signed an interconnection fee-based arrangement with Comcast (CMCSA) on February 23, 2014.
As you can see in the above chart, Internet speeds, based on Netflix's USA ISP Speed Index, increased after that date.
You can have a diversified exposure to Netflix by investing in the Consumer Discretionary Select Sector SPDR Fund (XLY). The ETF held ~1.2% in the company as of March 2, 2015.