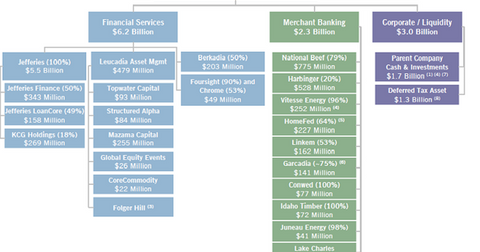 Fairholme Lowers Its Stake in Leucadia National Corporation
By Santiago Solari

Updated
Fairholme and Leucadia National Corporation
In the fourth quarter of 2014, Fairholme lowered its stake in Leucadia National Corporation (LUK) through the sale of 601,422 shares, bringing its total shares held in LUK to 14.5 million. The fund's current position in LUK is valued at $324.7 million, which translates to about 4.45% of Fairholme's US long portfolio size. LUK is a component of Vanguard Midcap Growth ETF (VOT) and forms 0.43% of the ETF's total holdings.
Also during the fourth quarter, Bruce Berkowitz's fund reduced its stakes in American International Group (AIG), Bank of America (BAC), St. Joe Co. (JOE), and Lincoln National Corporation (LNC).
Article continues below advertisement
Overview of Leucadia National
Leucadia National Corporation (LUK) is a holding company that has diversified business interests through its subsidiaries. The company's largest operating company is global investment banking firm Jeffries. Jeffries amalgamated with Leucadia in November 2012 in a deal valued at $3.8 billion. Leucadia's other subsidiaries operate in businesses such as beef processing, manufacturing, real estate, oil and gas production and exploration, and asset management.
Due to its long-term value-oriented investment style and its interests in diversified businesses, Leucadia National is referred to as Baby Berkshire.
Fourth quarter performance
Leucadia's revenues declined by 7.9% year-over-year (or YoY) to $2.7 billion. Due to bad debt provisions of $52.3 million, recorded by Jeffries in 4Q14, the company booked a net loss of $9.8 million against a net profit of $8.6 million. On the date of the earnings announcement, the company declared a quarterly cash dividend of $0.0625 per share, payable on March 16, 2015. The company also repurchased 704,806 shares at an average price of $21.55.
Article continues below advertisement
Investing activities
In the fourth quarter, Leucadia National made follow-up investments in its existing businesses. LUK purchased additional shares in Harbinger for $64.5 million, increasing its ownership to 23%. A further $37.5 million was deployed in Garcadia Motors's auto dealerships.
Plus, Leucadia National invested $78.4 million in oil and gas property leasing firm Juneau Energy. Leucadia's total investment in Juneau Energy has a net book value of $175.8 million.
Leucadia invested $300 million in FXCM Inc. (FXCM) during January 2015. The investment was to support the online provider of foreign exchange trading and related services that suffered severe losses upon the Swiss National Bank's abandonment of the peg system for Swiss francs. The investment in FXCM is in the form of a two-year secured term loan with an interest rate that increases 1.5% per annum each quarter from its base rate of 10%.