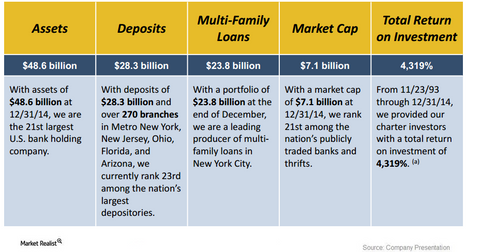 Fairholme Capital Bids Adieu to New York Community Bancorp
By Santiago Solari

Updated
New York Community Bancorp
Fairholme Capital Management sold its remaining stake of 148,000 shares in New York Community Bancorp (NYCB) during fourth quarter of 2014. NYCB had accounted for 0.03% of Fairholme's third quarter portfolio.
With the disposal of NYCB from its portfolio, Fairholme's exposure to the financial services sector stands at ~73%, with holdings in American International Group (AIG), Bank of America (BAC), Citigroup (C), Wells Fargo (WFC), JPMorgan Chase (JPM), Lincoln National Corporation (LNC), and Berkshire Hathaway (BRK-B).
Article continues below advertisement
Company profile
Headquartered in New York and with assets of $48.6 billion as of fiscal 2014, New York Community Bancorp is the country's 21st-largest bank holding company. The company is also one of the largest depositories in the United States with deposits of $28.3 billion. NYCB has a solid geographical presence with 272 branches and seven local divisions spread across five regions.
In New York, the company operates under the divisional names Queen County Savings Bank, Roslyn Savings Bank, Richmond County Savings Bank, and Roosevelt Savings Bank. It operates as Garden State Community Bank in New Jersey, Ohio Savings Bank in Ohio, and AmTrust Bank in Florida and Arizona.
NYCB posts solid 4Q14 results
New York Community Bancorp's net interest income decreased by 4.8%, or $13.6 million, from the prior year quarter to $283.7 million as the yield curve continued to flatten. Non-interest income increased by $31.7 million to $70.5 million, largely due to recovery on a write-off. Plus, NYCB booked $8.7 million in net securities gains, reflecting an increase of $5.4 million from 4Q13.
Non-interest expenses remained relatively flat at $148.1 million. As a result, NYCB's net income increased by 9.2% year-over-year to $131.2 million in 4Q14 or by 3 cents to $0.30, over the same period.
Edges closer to SIFI status
In fiscal 2014, New York Community Bancorp continued to grow its multifamily loan book in what turned out to be a record year. Roughly $7.6 billion in loan originations were made during the year, while keeping asset quality metrics intact.
Multifamily loan portfolio increased by more than 15% to $23.8 billion and represented 72.2% of total loans held for investment. Despite the growth in its multifamily loan book, NYCB managed to remain below the SIFI (Systematically Important Financial Institution) threshold of assets below $50 billion.
NYCB reduced its assets from $48.7 billion at the end of 3Q14 to $48.6 billion at the end of 4Q14, through $1 billion in asset sales, securities calls, and loan and security repayment.
NYCB is a component of the Vanguard Financials ETF (VFH), with a portfolio weight of 0.18%.