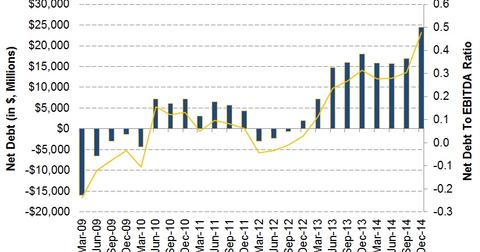 Exxon Mobil's debt load is still in the comfort zone
By Alex Chamberlin

Updated
Exxon Mobil's debt
In the previous part of this series, we looked at increasing debt structures for ConocoPhillips (COP) and Laredo Petroleum (LPI). Now we'll look at Exxon Mobil Corporation's (XOM) debt.
Exxon Mobil (XOM), a Texas-based integrated energy company, is one of the largest by market capitalization. It operates in the United States, Canada, South America, Europe, Africa, Asia, and Australia/Oceania. The company's operations include crude oil and natural gas exploration and production as well as manufacturing and marketing of petrochemicals.
Article continues below advertisement
Exxon Mobil's leverage ratios
Exxon Mobil's debt load has increased. From 4Q09 to 4Q14, its total long-term borrowing increased 63%. Long-term borrowings are repaid over more than one year. From 4Q13 to 4Q14, its net debt, or long-term and short-term debt less cash reserves, increased 36%, to $24.5 billion.
Net debt-to-EBITDA (earnings before interest, taxes, depreciation, and amortization) ratio currently stands at 0.47x. Net debt-to-EBITDA is a measurement of leverage, which indicates a company's ability to repay debt. The lower the ratio, the better it is for the financial health of a company. EBITDA is also a measure of profit.
Exxon Mobil's (XOM) debt-to-capitalization currently stands at ~14%, an increase from 7.6% five years ago. Total capital includes the company's debt and shareholders' equity. A higher ratio indicates a company's reduced financial flexibility and increased risk of insolvency.
Exxon Mobil raises debt
On March 3, 2015, Exxon Mobil (XOM) sold $8 billion of debt. This is one of the highest debts raised by the energy companies since July 2014. Proceeds from the bond sale may be used to fund general corporate purposes, including acquisitions, capital expenditures, and refinancing. This included ten-year bonds yielding 48 basis points higher than similar maturity Treasury assets.
The spread over treasury yield denotes a bond's riskiness. Higher yields also drive investments from the bond investors.
Anadarko Petroleum's (APC) long-term debt also increased 15% in 4Q14 over 4Q13. XOM, CVX, and APC make up 31% of the Energy Select Sector SPDR ETF (XLE). XOM makes up 21.9% of the iShares US Energy ETF (IYE).
Chevron Corporation (CVX) has also raised significant debt in recent times. Read the following section to know how Chevron Corporation's debt structure has changed over the years.