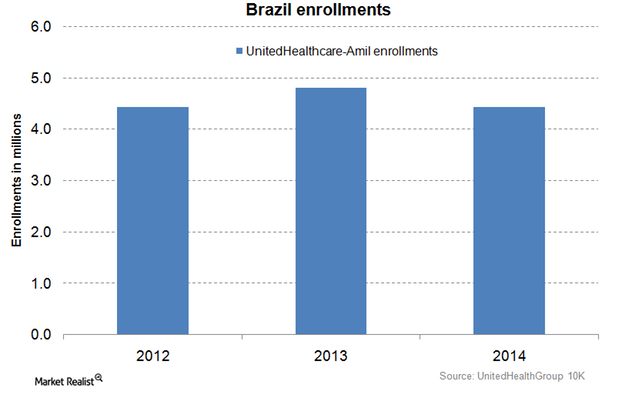 Enrollments decreased in UnitedHealth's international business
By Margaret Patrick

Dec. 4 2020, Updated 10:53 a.m. ET
International presence
In the US, the private health insurance industry has been expanding its footprint in international markets. International markets are less penetrated and competitive—compared to the US markets. Health insurance companies like Aetna (AET), Humana (HUM), Cigna (CI), and UnitedHealth Group (UNH)—are actively pursuing opportunities overseas to earn higher margins than those earned in the domestic markets.
Article continues below advertisement
Although UnitedHealth Group also has a presence in the United Kingdom, Canada, and Australia, the company has the highest number of international members in Brazil. The above graph shows the enrollments of UnitedHealthcare's Amil subsidiary in Brazil. The enrollments rose from 4.4 million in 2012 to 4.8 million in 2013. The enrollments reduced to 4.4 million in 2014.
Read What's UnitedHealth Group's strategy for international expansion? to learn more about UnitedHealth Group's Amil acquisition.
Brazil market
In Brazil, the private health insurance industry (XLV) covers up to 30% of the population. However, it accounts for 55% of the total healthcare expenditures. Until recently, the private health insurer was mandated to provide coverage for drugs required during hospitalization—only if they were covered in the health insurance policy. On October 21, 2013, ANS (National Agency for Supplemental Health), the private health insurance industry regulator in Brazil, passed a resolution that increased the mandated healthcare benefits to be covered by the private insurer.
Effective January 2014, the law requires the insurer to provide coverage for 87 additional procedures, 37 orally administered oncology drugs, and 50 new tests, surgeries, and consultation visits to individual and group coverage participants. The ANS also passed a resolution on May 12, 2014. It requires the health insurance industry to cover eight groups of oral drugs to treat the side effects of home cancer treatment.
The increased mandates led to excessive expenses for UnitedHealth Group's Amil subsidiary. The expenses have been passed to the customers as increased premiums. This resulted in a decline in UnitedHealth Group's international enrollments.