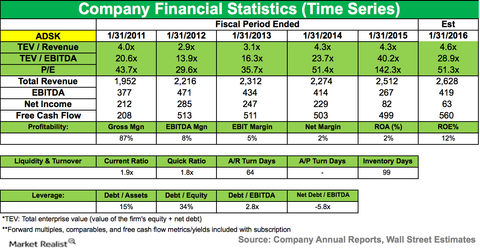 Eminence Capital Lowers Position in Autodesk
By Diana Key

Mar. 20 2015, Updated 2:23 p.m. ET
Eminence Capital and Autodesk
During the fourth quarter of 2014, Eminence Capital decreased its stake in Autodesk (ADSK). The fund held 3,002,498 shares of ADSK, which accounted for 2.62% of the fund's 4Q14 portfolio. Autodesk had made up 4.75% of the fund's 3Q14 portfolio with 5,894,412 shares.
Article continues below advertisement
About Autodesk
Autodesk empowers people to imagine, design, and create a better world. The company's software products and services allow customers to visualize, simulate, and analyze their projects digitally. This in turn helps customers to do the following things:
understand the consequences of their design decisions better
save time, money, and resources
become more innovative
Design professionals, engineers, architects, digital artists, students, and hobbyists all use ADSK software to unlock their creativity.
ADSK operates in four reportable segments:
Platform Solutions and Emerging Business (or PSEB)
Architecture, Engineering, and Construction (or AEC)
Manufacturing (or MFG)
Media and Entertainment (or M&E)
Strong AEC and MFG results for 4Q15
For the fourth quarter of 2015, ADSK's revenues totaled $665 million, up 13% on a YoY (or year-over-year) basis. Revenues grew 15% on a constant currency basis.
Descartes Systems Group (DSGX), a peer of ADKS, also mentioned foreign exchange headwinds during a recent earnings release. DSGX's revenues grew 10% to $44.3 million in 4Q15. On a constant currency basis, DSGX revenues increased 16%.
ADSK's recent acquisition of Delcam contributed $20 million to revenue in 4Q15. Revenues from the AEC and MFG segments grew 24% and 23% to $242 million and $190 million, respectively.
GAAP (or generally accepted accounting principles) EPS (or earnings per share) was $0.05 in 4Q15 compared to $0.23 in 4Q14. This decline in profit was due to the higher costs and operating expenses. Total billings increased by 13% YoY and by 20% on a constant currency basis.
For the full year 2015, ADSK's revenues were up 10% to $2.51 billion, which was a 12% increase on a constant currency basis. These figures included the $48 million in revenue from the Delcam acquisition. GAAP EPS was $0.35 compared to $1 in 2014.
Article continues below advertisement
Cloud- and term-based subscription offerings
Autodesk's subscription-based offerings provide customers with "greater flexibility and create a new and better experience." For 4Q15, total subscriptions increased by about 100,000 on a sequential basis, including 17,000 subscriptions related to the acquisition of Shotgun. For the full year 2015, subscriptions increased by about 385,000 to 2.23 million. F5 Networks (FFIV), another peer of ADSK, also recently received a positive response in relation to its two new subscription-based offerings.
ADSK's cloud-based products like Fusion 360 and PLM (or product lifecycle management) 360 performed very well in 4Q15, increasing the company's customer base. 90% of the Fusion accounts were new to Autodesk. Many of the PLM users had come back to ADSK to expand their usage after the addition of 50 new PLM logos in 2015.
1Q16 and full year 2016 outlook
For the first quarter of 2016, ADSK expects revenues to be in the range of $625 million to $645 million. The company anticipates GAAP EPS of $0.01–$0.06.
For the full year 2016, ADSK projects revenue growth of 3%–5% YoY and 7%–9% on a constant currency basis. The company expects GAAP EPS of $0.10–$0.25. Total billings will likely increase by 3%–5% YoY or 9%–11% on constant currency basis. Subscriptions could grow by 375,00–425,000.
You can gain exposure to ADSK by investing in the Technology Select Sector SPDR Fund (XLK) and the Vanguard Mid-Cap Growth ETF (VOT). ADSK accounts for 0.37% and about 0.84% of XLK and VOT, respectively.
In the next part of this series, we'll discuss Eminence Capital's position change in eBay.