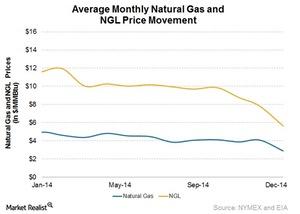 What Else Impacts DCP Midstream's Natural Gas Services?
By Alex Chamberlin

Updated
Other factors affecting natural gas infrastructure
We've seen how natural gas production volume and natural gas prices can affect a natural gas transportation provider like DCP Midstream Partners (DPM). In this article, we'll see what other factors can impact DCP Midstream's natural gas and energy infrastructure business.
The first factor is the relationship between commodities such as NGLs (natural gas liquids) and natural gas. If the price of natural gas liquids stays low or falls more than natural gas, it may not be economical to process NGLs from the natural gas stream. This process is called ethane rejection.
Article continues below advertisement
In 2014, NGL prices fell more than natural gas price. Falling commodity prices can negatively affect energy midstream operators such as Plains All American Pipeline (PAA), Energy Transfer Partners (ETP), and Williams Partners (WPZ). DCP Midstream and Plains All American together account for 10.4% of the Alerian MLP ETF (AMLP).
Demand from the petrochemical industry
Operating efficiency of midstream operators such as DCP Midstream (DPM) is directed by the demand for natural gas, NGLs, and condensate.
Natural gas liquids (or NGLs) are used as feedstock in the petrochemical industry. During 2014, petrochemical demand remained stable for NGLs relative to crude oil derived feedstocks. In 2015, demand for NGL feedstock is expected to continue because of its relative price advantage and as export facilities are brought into service.
Type of contracts
Contracts can be energy price sensitive, or fee-based. DCP Midstream (DPM) expects to increase its fee-based income significantly over the next three years. Read Part 12 of this series to know more about DCP Midstream's market performance.
In the following part, we'll take a look at DCP Midstream's (DPM) NGL Logistics segment.