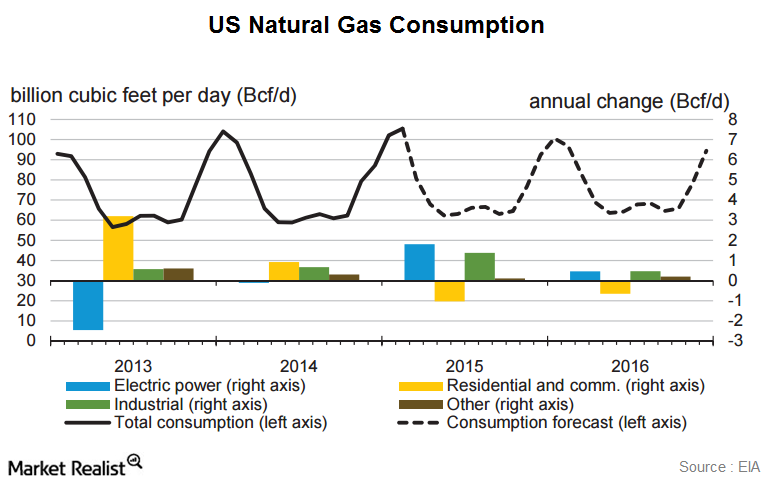 EIA's 2015 Natural Gas Consumption Forecasts
The EIA forecasts natural gas consumption
The U.S. Energy Information Administration (or EIA) forecasts that total natural gas consumption will average 75.7 Bcf/d (billion cubic feet per day) in 2015 and 76.2 Bcf/d in 2016, compared to an estimated 73.5 Bcf/d in 2014.
Total natural gas consumption is comparable to total marketed production. Marketed natural gas is the natural gas left intact before the withdrawal of liquids such as propane and butane. The removal of these liquids forms dry natural gas. You can read about dry natural gas production trends in the previous part.
The EIA expects total marketed production to average 78.39 Bcf/d in 2015 and 79.96 Bcf/d in 2016.
The increase in consumption will be a result of increased demand from industrial and electric power sectors.
Demand from the power sector is forecast to grow by 8.1% in 2015. Then it's expected to grow by ~1.9% in 2016.
Industrial consumption is forecast to increase by 6.6% and 2.1% in 2015 and 2016, respectively. This is due to new industrial projects coming on line, predominantly in the fertilizer and chemical sectors.
Demand from residential and commercial sectors is projected to decline in 2015 and 2016.
Article continues below advertisement
Consumption trends this winter
Milder temperatures this winter have caused a decline in residential and commercial demand. As a result, the EIA forecasts that consumption will average 88.1 Bcf/d for the remainder of the heating season versus 90.9 Bcf/d during the same period in 2014.
Consumption trends last week
US natural gas consumption fell in all sectors last week. Total consumption fell ~16.9% compared to the prior week. Residential and commercial consumption declined ~31.1%. Consumption for power generation fell ~4.4%, and industrial consumption declined ~4.7%.
Production and consumption trends determine the fate of natural gas prices. Weather is the primary factor that determines consumption trends. Read Part 3 to see how the weather impacted prices last week.
Natural gas prices affect the profit margins of gas-weighted producers such as Devon Energy (DVN), QEP Resources (QEP), EQT Corporation (EQT), and Southwest Energy (SWN). All these companies are part of the iShares Global Energy ETF (IXC) and make up ~2% of the fund.