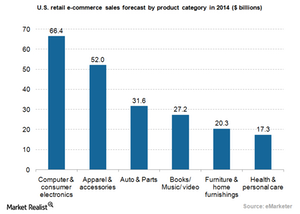 eBay management strategies for 2015
By Patricia Garner

Nov. 20 2020, Updated 12:58 p.m. ET
eBay management's plans for 2015
eBay Inc. (EBAY) announced its 4Q14 earnings on January 21, 2015. During the earnings call, eBay management listed two top priorities for 2015.
First, the company will execute its business plan. Management is taking action to streamline and simplify its cost structure by reducing the workforce across its three business units. eBay will eliminate 7% of its global workforce, a reduction of 2,400 employees.
Article continues below advertisement
A few weeks ago, the Wall Street Journal reported that eBay is planning to cut at least 3,000 jobs. This is eBay's strategy to save operating costs amid heighten competition. eBay's peer, Amazon (AMZN), is also struggling to conserve its margins. In the Market Realist article Investing in Amazon stock? Key risks you should watch out for, we discussed how Amazon's operating margins continue to decline over the last few years.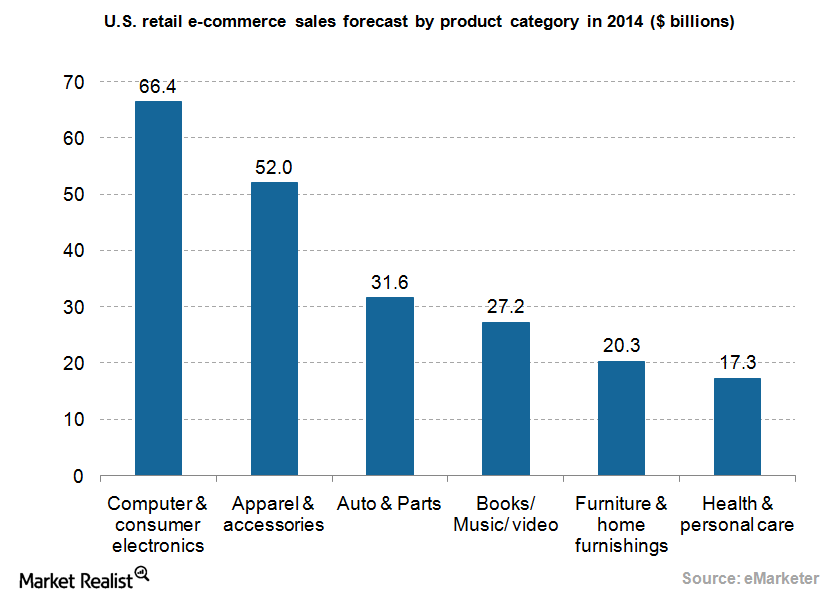 Retailers offer eBay some stiff competition
Another problem for pure e-commerce players is that Wal-Mart (WMT) and Target (TGT) have beefed up their online product offerings, selling some of them at a cheaper rate.
According to a report from eMarketer and as the above chart shows, the four largest categories among the top six in the US retail e-commerce market are electronics, apparel, furniture, and healthcare. For these four categories, online retailers' prices were higher than Wal-Mart's and Target's. These competitive issues have forced eBay to cut jobs.
Article continues below advertisement
eBay management also feels that after the separation of eBay and PayPal this year, the company will pursue an IPO (initial public offering) or sale of the eBay Enterprise business. Management believes that the eBay Marketplaces and Enterprise businesses have divergent opportunities, hence the sale of the latter.
The company is now focusing on adopting initiatives in which it can leverage its large growing customer base to produce strong cash flows.
eBay's second priority is to create two powerful stand-alone companies, eBay and PayPal. In the earnings call, eBay management highlighted key requirements for the success of the two companies.
The first requirement will be an operating agreement that provides strategic flexibility while preserving synergies and minimizing dis-synergies. The second requirement is a capital structure that provides each business the flexibly to invest. The third requirement is to create two world-class boards of directors.
The Consumer Discretionary Select Sector SPDR (XLY) has decent exposure to Amazon. Amazon makes up 6.3% of XLY. Investors can consider this ETF for portfolio exposure to Amazon.