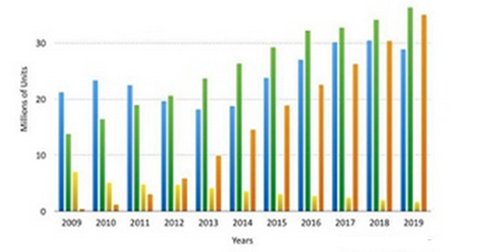 EA's Bioware cancels Shadow Realms, a major development project
By Anne Shields

Updated
Shadow Realms was announced in 2014
In 2014, Electronic Arts' (EA) Bioware Austin Studio announced Shadow Realms at Gamescom. The announcement accompanied the launch of alpha testing ahead of the game's further development.
Shadow Realms aimed to be a fantasy-themed four-versus-one role playing game (or RPG) with a focus on online collaborative play. The game was to take on an episodic format. In the game, one player was to act as a "Shadowlord" who controls creatures and traps, while the other four players were to work together to defeat the Shadowlord.
EA originally planned to release the first episode of Shadow Realms in late 2015, but that release was not supposed to be the entire game. As is common with most episodic games, the developers planned to put out new episodes over time as the storyline evolved.

Article continues below advertisement
You can consider investing in the PowerShares QQQ Trust (QQQ) and the Technology Select SPDR (XLK) to gain exposure to Electronic Arts. EA makes up about 0.35% and 0.47% of these ETFs, respectively. As the above image shows, phones and tablets should lead as a gaming platform, followed by PC and consoles.
Bioware's Shadow Realms shelved
Despite plans, in February 2015, Bioware's Shadow Realms was canceled. The company didn't offer any specifics as to why Shadow Realms was shelved. However, unconfirmed rumors state that Star Wars products have a significant role in this decision. Also, the company might not have seen enough potential in the game to justify the resources it required.
Jeff Hickman, general manager of BioWare Austin, confirmed the cancelation via the role playing game's blog. Bioware now aims to focus the majority of its attention on Star Wars: The Old Republic. The company will also be involved in other BioWare projects, including the development of the next entry in the Mass Effect series and post-development work on Dragon Age Inquisition, which is available on Microsoft's (MSFT) Xbox One and Sony's (SNE) Playstation 4 as well as PC.