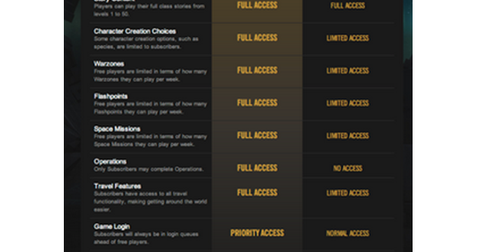 EA has long-term plans for Bioware's Star Wars: The Old Republic
By Anne Shields

Updated
Bioware's SWTOR key features
As we mentioned in the earlier part of this series, Electronic Arts' (EA) Bioware developed Star Wars: The Old Republic, or SWTOR. The game succeeded Sony's (SNE) Star Wars Galaxies as the main Star Wars MMO[1. Massively multiplayer online game]. The Old Republic was officially released in December 2011. SWTOR, set over 300 years after the events of the Knights of the Old Republic games, is the first MMORPG[2. Massively multiplayer online role playing game] to feature full-scale voice acting.
Article continues below advertisement
The Old Republic features 17 fully-explorable planets, eight unique classes divided into the Galactic Republic and Sith Empire factions, and over 1,600 hours of story. The game also features extensive references to pre-existing Disney (DIS) Star Wars content and introduces new characters, locations, items, groups, and events to the Star Wars universe. After the cancelation of the Expanded Universe in 2014, Star Wars: The Old Republic or SWTOR is the only remaining game that continues to produce "Legends" information apart, from the official Star Wars Blog.
You can consider investing in the PowerShares QQQ Trust (QQQ) and the Technology Select SPDR (XLK) to gain exposure to Electronic Arts. EA makes up about 0.35% and 0.47% of these ETFs, respectively.
Issues with SWTOR forced Bioware to introduce a free-to-play option
The game generated criticism from players, owing to its lack of late-game content. This issue led the game's developers to focus on the addition of upper-level content in many of their updates. Subscription numbers have failed to rise since 2012, which compelled the company to introduce a free-to-play option in November 2012.
The above image shows the difference between SWTOR's paid and free features when the company decided to introduce a free-to-play option. The game's first 50 levels will be free-to-play, with restrictions on access to new content and advanced player features, though some restrictions can be "unlocked" with cartel coins.
The game's first digital expansion, Rise of the Hutt Cartel, came out in April 2013. SWTOR has received 19 major content updates so far, and the second digital expansion, Galactic Starfighter, was released in February 2014 for free-to-play users. Galactic Starfighter was released to active subscribers and preferred status players on December 3, 2013, and January 14, 2014, respectively. Galactic Strongholds, the third digital expansion, and Shadow of Revan, the fourth, came out in August 2014 and December 2014, respectively.
Two more expansions are expected by the end of 2015. EA's decision to scrap Shadow Realms and instead focus its attention on SWTOR appears to be part of this strategy.