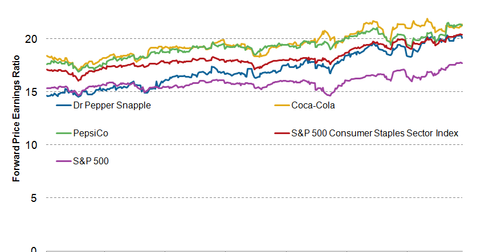 Dr Pepper Snapple stock outperforms peers and consumer staples ETF
By Sirisha Bhogaraju

Updated
Company versus its peers
Dr Pepper Snapple (DPS) is the third-largest liquid refreshment company, with annual sales of $6.1 billion in 2014. It competes with soda behemoths like Coca-Cola (KO) and PepsiCo (PEP), which generated respective revenues of $45.9 billion and $66.7 billion in 2014. The SPDR S&P 500 ETF (SPY) invests 9.73% of its holdings in the consumer staples sector as of February 26, 2015.
Article continues below advertisement
Dr Pepper Snapple's stock outperforms
Since 2014, Dr Pepper Snapple's stock has appreciated by 64%—way more than larger peers like Coca-Cola and PepsiCo, which are up 21% and 4%, respectively. About 38% of the stock's appreciation was from its price-to-earnings (or PE) multiple expansion, and the rest was due to an increase in forecasted earnings. The company also outperformed the Consumer Staples Select Sector Fund (XLP) and the broader market, represented by the S&P 500.
Relative valuation
Dr Pepper Snapple is currently trading at a PE ratio of 20.1, compared to 14.6 at the beginning of the year. The company's valuation is almost on par with the S&P 500 Consumer Staples Sector Index. The company performed well in 2014, registering 2.1% growth in its revenue amid a difficult environment for soda drinks.
Soda giants Coca-Cola and PepsiCo are both trading at PE multiples of 21.3. Coca-Cola and PepsiCo have strong product portfolios, extensive distribution networks, and significant international presences. Dr Pepper Snapple lacks a strong non-carbonated beverage portfolio, unlike those beverage giants.
Article continues below advertisement
2015 outlook
For 2015, Dr Pepper Snapple expects its net sales to be up 1% compared to 2014. Currency headwinds should hit sales by 1%. EPS (earnings per share) for 2015 should be in the range of $3.80 to $3.88. The company's cost of goods sold should be down 1% due to lower packaging and commodity costs. The company also plans to spend ~7.6% of its 2015 net sales revenue on marketing.
Growth strategies
The company's future growth strategies include expanding its non-carbonated beverage line, targeting fast-growing population segments like the US Hispanic community, and strengthening its distribution network. The company is also bringing in new and healthier products to the carbonated beverage category. The company launched Canada Dry Sparkling Selzer waters and Schweppes sparkling waters in 2014. Dr Pepper Snapple already has a strong presence in the mineral water category through the Peñafiel brand.
In January 2015, Dr Pepper Snapple reached a deal with Keurig Green Mountain (GMCR) to develop some of its brands for the upcoming Keurig Cold at-home beverage system. Coca-Cola bought a 16% stake in Keurig and entered into a similar deal in 2014.
To learn more about Dr Pepper Snapple, you can read our company overview series.