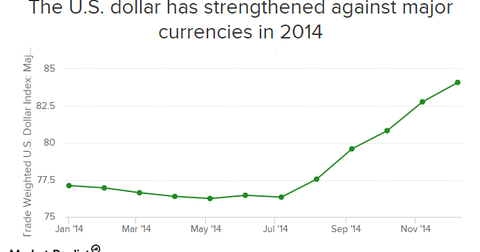 Why Dollar Appreciation Is a Concern for IBM
By Anne Shields

Updated
IBM earns more than half of its revenues from outside the US
IBM (IBM) earns about 45% of its revenues from the Americas (North America and Latin America), 33% of its revenues from EMEA (Europe, the Middle East, and Africa), and 22% from its Asia-Pacific region (Australia, India, and Korea). All of IBM's geographic segments reported a decline in revenues. The Asia Pacific region reported the most year-over-year decline at 11.8%.
The chief reason for IBM's negative growth in the Asia Pacific region was weakness in China (FXI). Year-over-year revenue growth in China declined by 17.2%. Other prominent countries like Australia, India (EPI), and Korea, also contributed to the decline in Asia Pacific revenues. IBM expects that the appreciation of the US dollar will impact its revenues by more than 6% in 2015.
Article continues below advertisement
Dollar appreciation is likely to hurt IBM's revenues
2014 appeared to be a good year for the US dollar, emerging as one of the most preferred currencies in the world, as the above presentation shows. However, this strengthening of the dollar is not good news for technology companies like IBM who derive the majority of revenues from outside the US. The strengthening dollar means that international revenues are converted into fewer dollars.
The technology industry is suffering from the dollar's appreciation
Apart from IBM, leading technology players like Microsoft (MSFT), Apple (AAPL), and Facebook have also voiced their concerns about the impact of the strengthening dollar on their revenues. Microsoft expects a 4% hit to its revenue growth in the quarter ending in March 2015 due to dollar appreciation. Apple too expects a 5% hit to its revenue in the quarter ending in March. Facebook announced that it expects its revenue to be affected by 5% in 2015 due to foreign exchange issues.