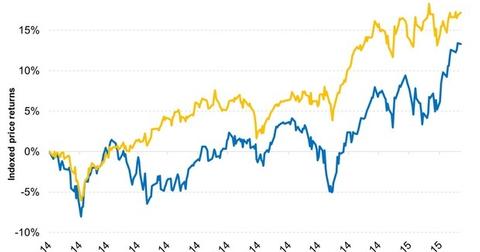 The Dip In Oil Prices Led To Improved Consumer Spending
By Russ Koesterich, CFA

Mar. 6 2015, Updated 12:05 p.m. ET
This windfall is likely to have the biggest impact with middle income and lower-middle income families. According to a Bank of America/Merrill Lynch survey, in 2012 households earning less than $50,000 a year spent 21 percent of their after-tax income on energy, compared to 9 percent for those earning more than $50,000. This is important as lower income households have a higher propensity to spend. It should also be noted that many families are not only getting a boost from lower prices in gasoline, but also from natural gas, which heats about 50 percent of U.S. homes. Natural gas prices recently dipped below $3 per million BTUs for the first time since 2012.
Article continues below advertisement
Market Realist – The dip in oil prices led to improved consumer spending.
Lower oil (USO) prices acts as a tax cut for consumers. This is because consumers end up spending less at the pump. This means more discretionary income, as we discussed in the last part of this series. Consumers can use the money they saved at the pump for either consumption or savings. Since the cut in oil prices has been steep, consumers end up saving a lot of money. This is positive for consumer-related sectors—like consumer discretionary and consumer staples.
The graph above shows the price returns for the consumer staples and the consumer discretionary sectors—as tracked by the Consumer Staples Select Sector SPDR ETF (XLP) and the Consumer Discretionary SPDR ETF (XLY)—respectively, since the start of last year. They had returns of 17.2% and 13.3%, respectively. The bulk of the returns came after November 2014, when the oil price cuts were massive. Consumer-related stocks—like Yum! Brands (YUM), Amazon (AMZN), and Walmart (WMT)—all saw price increases since then.
Lower oil prices also aid the economy. Consumption makes up ~70% of the US GDP (gross domestic product). Consumption grew by 4.3% in 4Q14. This was the best growth since 2006—mainly due to the slump in oil prices. Whether the increase was a one-off or an inflection point will become clear over time.
Until oil prices stay relatively low, these sectors could benefit as consumers continue to splash their money around.