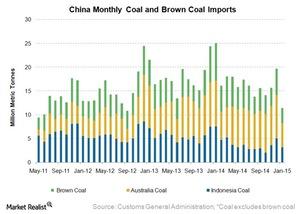 Diana: Rising Coal Stockpiles Will Likely Hamper Dry Bulk Shipping
By Katie Dale

Updated
China and India coal industry
In 2014, coking coal's global seaborne trade dropped 1%, according to Clarksons' report. Diana Shipping's (DSX) management cited the report. In 2015, it's only expected to increase by 2%. India accounts for ~25% of the projected coking coal imports in Asia. For several years, India failed to meet domestic production targets for coking coal. It has been increasing imports.
In 2014, imports increased by 24% year-over-year, or YoY. Projections indicate that due to recently commissioned infrastructure projects, coking coal imports are expected to increase by 9% in 2015.
Article continues below advertisement
In 2014, world coal exports increased by 3.3% to 1.25 billion tons. The tendency for more shorter haul shipments proved to be negative for the market. The world's largest coal consumer is China. For the first time in ten years, it experienced a reduction in total annual imports for all types of coal. It's important to note that 2008 was an exception. In 2008, the dip came about due to the financial crisis.
Thermal coal
Thermal coal imports to China decreased by ~6% YoY in 2014. Global seaborne thermal coal trade is expected to increase by 2% in 2015 and reach 953 million metric tons, according to Clarksons. The reduction in Chinese import demand was partly caused by higher levels of domestic hydroelectric power generation. This also contributed to a rise in Chinese thermal coal stocks.
For 2015, China is expected to import about 188 million metric tons of thermal coal. This would be 2% higher than in 2014. China has been focusing on lower coal consumption to reduce pollution levels in the economy.
Looking ahead
Recently, Indonesian authorities announced that the country's coal production target for 2015 will be 416 million tons. This would be positive for the dry bulk market. Also, according to Commodore Research, India will likely import even larger amounts of Indonesian coal in 2015. Chinese coal inputs will likely increase this year as well.
Rising coal stockpiles at the Qinhuangdao Port—China's largest coal port—are among the factors negatively affecting the shipping industry. Stockpiles reached 8 million tons. The continued rise may negatively impact the near-term coal import prospects. It would also be negative for companies like DryShips (DRYS), Navios Maritime Holdings (NM), Safe Bulkers (SB), and Navios Maritime Partners (NMM).
The iShares S&P 500 Index ETF (IVV) invests in sectors like consumer non-cyclical, financial, energy, technology, communications, industrial, consumer cyclical, basic materials, and utilities.