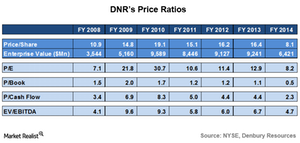 Do Denbury Resources' Price Ratios Mean It's Cheap?
By Manas Chowgule, CFA

Mar. 31 2015, Updated 5:05 p.m. ET
Price ratios
Price ratios are a great way to find out where a company's shares are trading. They can be used in two ways. First, they can be used to compare price ratios with similar companies. Second, they can be used to compare ratios at which the company has traded in the past.
The first way gives us an idea of whether a company is trading at cheap or expensive levels compared to its peers. We'll be doing this type of analysis later. The second method gives us an idea of whether the company is trading at cheap or expensive levels compared to its own historical levels.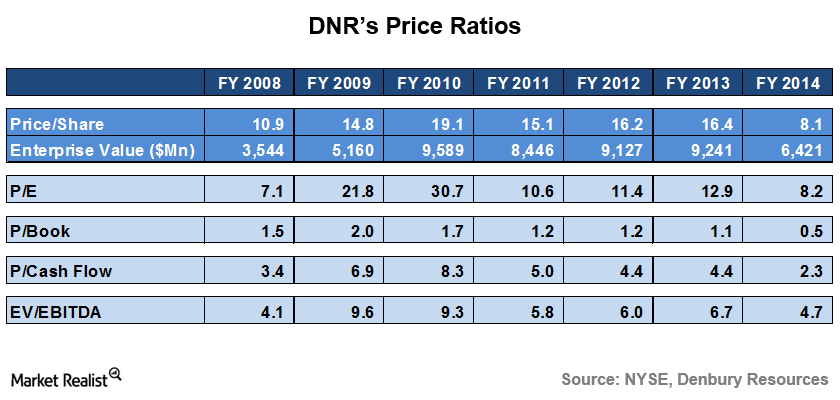 Article continues below advertisement
Denbury's price ratios
Two major things used to value a company are its share price and its enterprise value (or EV). The former is one of the major factors driving the latter. But as we saw in the previous part, EV can grow even if stock prices don't. So it's important to value a company by also taking into account its debt.
As we saw in the previous part, Denbury Resources (DNR) is trading at a discount in terms of the EV-EBITDA (earnings before interest, taxes, depreciation, and amortization) multiple compared to levels it has traded historically. We can see this is true even in the case of its price-to-cash flow and price-to-earnings (or PE) multiples.
Denbury currently trades at a trailing 12-month (or TTM) PE of ~4x. For context, similarly sized peers Newfield Exploration Company (NFX), Ultra Petroleum Corporation (UPL), and SM Energy (SM) currently trade at TTM PE multiples of ~5x, ~4.3, and ~4.9x, respectively. These four companies together account for ~0.8% of the iShares U.S. Energy ETF (IYE).
Key insight
A key thing to note is that Denbury shares currently trade at about half their book value. This means that if we assume the value of assets on its books is fair, its shares trade at about half the amount that its total assets exceed its total liabilities.
Theoretically, if the company managed to sell all its assets at current stated values, settled all its liabilities, and paid the rest to shareholders, then shareholders would basically get double the money where their shares currently trade.