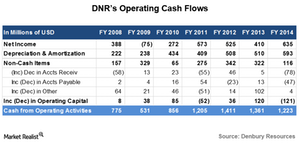 Denbury Resources' Operating Cash Flows Are Encouraging
By Manas Chowgule, CFA

Mar. 30 2015, Updated 11:06 a.m. ET
The importance of cash flow
A company's income statement shows a smoothed view of its performance and includes noncash items such as depreciation. A balance sheet also has shortcomings, such as the presence of intangible assets and the fact that it's a snapshot of a company at a given date.
These things make drawing conclusions about a company's health a little difficult.
A company's cash flow, however, is far more straightforward. It reflects actual cash transactions for a period under review.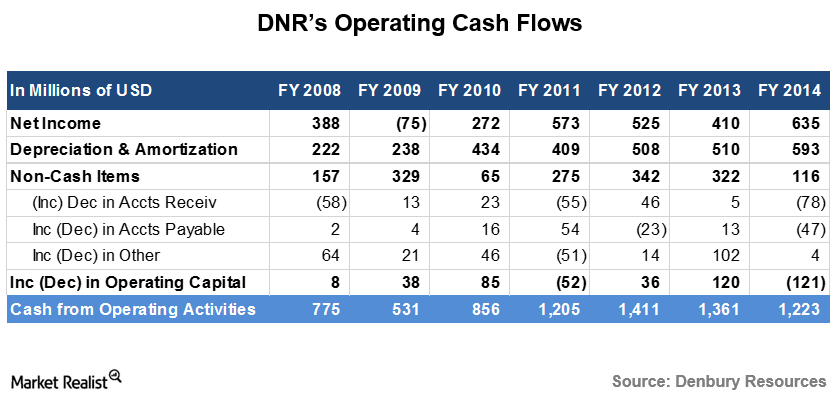 Article continues below advertisement
What is operating cash flow?
As the name suggests, a company's operating cash flow (or OCF) is the cash it earns from its business operations. Business operations include the sale of products and services. So it's one of the most powerful indicators of a company's profitability.
This cash is a very useful thing because it gives a company the ability to invest in future growth such as projects or reward shareholders. Growing companies often raise cash from other sources such as debt or additional issue of shares in order to fund expansions that cost more than what their OCFs provide.
But the strength of a company's operating cash flow in tandem with well managed expenditures gives it a lot of flexibility in its operations. It also gives a company a lot of respect in capital markets. Both of these are important to a company.
Denbury Resources' operating cash flows
Denbury Resources' (DNR) operating cash flows have been on an upward trend over the last few years. OCFs have grown from $775 million in 2008 to $1,223 million in 2014. Given how volatile energy prices have been during this period, that's an encouraging trend.
In comparison, larger rivals Murphy Oil (MUR), Marathon Oil (MRO), and Occidental Petroleum (OXY) generated operating cash flows of ~$3 billion, ~$5.5 billion, and ~$11 billion, respectively, in 2014. These companies, including Denbury, make up ~0.45% of the broad market SPDR S&P 500 ETF (SPY).