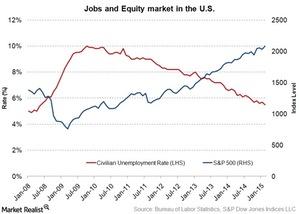 Declining US unemployment rate a boost to the economy
By Surbhi Jain

Nov. 20 2020, Updated 1:10 p.m. ET
Jobs market in the US is improving, giving the market rate-hike jitters
The jobs market in the US is definitely improving, yet the market sold off after Friday's release. Meanwhile, European and emerging market equities continued a torrid pace of outperforming the S&P500, which is tracked by the SPDR S&P 500 ETF Trust (SPY) and the Vanguard S&P 500 Index Fund (VOO), even though the jobless rate in the US is now two times lower than it is in the Eurozone, where unemployment currently sits at 11.2%.
Article continues below advertisement
US unemployment rate down to 5.5%
The U.S. Bureau of Labor Statistics, or BLS, released its employment situation report for the month of February on March 6. Figures reported either came in line with or were better than expectations.
From a 10% rate in October 2009, unemployment in the US is now down to 5.5%, as reported by the BLS. The rate came in at the lower limit of the consensus range of 5.5% to 5.7% for February. The BLS calculates unemployment in the US as the percentage of the labor force—aged 16 or older—that's currently unemployed but available to work and actively seeking employment in the last four weeks.
What the jobs report says about the employment situation in US
The non-farm payroll employment figure came in well above the consensus range of 200,000 to 252,000. According to the BLS report, total non-farm payroll employment increased by 295,000 in February. The labor force participation rate stood at 62.8%, and the employment-to-population ratio stood at 59.3% in February.
These are the specific areas that saw more jobs in February:
professional and business services
construction – companies like Fluor (FLR)
healthcare
transportation and warehousing
The only sector that saw a drop over the previous month was the mining sector. Gold, silver, and industrial metal prices continue to fall, so it comes as no surprise that this sector is shedding jobs.
The ETF that tracks precious metals—the VanEck Vectors Gold Miners ETF (GDX)—has fallen 13% in the last five days. This drop was led by Harmony Gold Mining ADR (HMY) and Coeur Mining (COE), both of which fell by over 20% in that time. Large caps held by the ETF fell less, such as Agnico Eagle Mines (AEM) that lost 13% over the same time period.
In the next part of this series, we'll look at the sectoral impact of the jobs report.