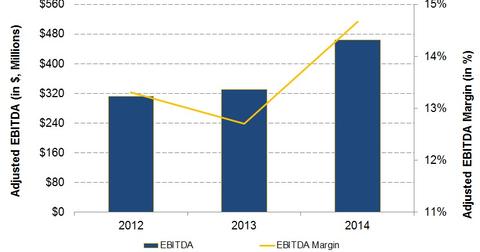 DCP Midstream's Natural Gas Services Shows Improved Performance
By Alex Chamberlin

Updated
Natural Gas Services segment performance
We've been getting an overall view of DCP Midstream's (DPM) business through its three segments. We've also looked at the value drivers that affect these segments. In this article, we'll see why DCP Midstream's Natural Gas Services segment is showing improved performance.
Revenues in the Natural Gas Services segment increased 22% to $3.16 billion in 2014, from $2.59 billion in 2013. In 2014, adjusted EBITDA (earnings before interest, taxes, depreciation, and amortization) increased 41% to $464 million compared to $330 million a year ago.
Adjusted EBITDA margin, or segment EBITDA as a percentage of segment revenues, increased to 14.7% from 12.7% during the same period in the previous year.
Article continues below advertisement
Why revenues and earnings increased
Higher volumes and improved NGL (natural gas liquids) recoveries were the leading factor of increased revenues in 2014.
The primary reasons adjusted EBITDA improved in 2014 were higher natural gas throughput volumes, improved NGL recoveries, and gains from hedging activity. Other factors that resulted in higher profit included higher earnings from DCP Midstream's O'Connor plant in the DJ Basin system and increased operating efficiency in the Eagle Ford system.
EBITDA was partially offset by lower volume in some of the segment assets and an unfavorable contract structure in the company's Lucerne 1 plant.
In comparison, revenues for Enterprise Products Partners (EPD) increased 0.5% in 2014 over 2013. Revenues for Boardwalk Pipeline Partners (BWP) increased 2.3%, and Oneok Partners' (OKS) revenues decreased 17.5%. Enterprise Products Partners (EPD) makes up 10% of the Alerian MP ETF's (AMLP) market capitalization.
Natural gas pipeline throughput and NGL production
In 2014, natural gas pipelines throughput volume increased 13% to 2.6 million cubic feet per day (or MMcf/d) from 2.3 MMcf/d in 2013. NGLs production increased by 29% to 157 thousand barrels per day (or MBbl/d) from ~122 MBbl/d.
Higher volume was driven by new and expansion projects placed into service in 2014 to support the demand for higher natural gas and price-advantaged NGLs. Read Part 2 of this series to know more about DCP Midstream's (DPM) Natural Gas Services segment assets.
In the next section of this series, we'll analyze DCP Midstream's (DPM) NGL Logistics segment.