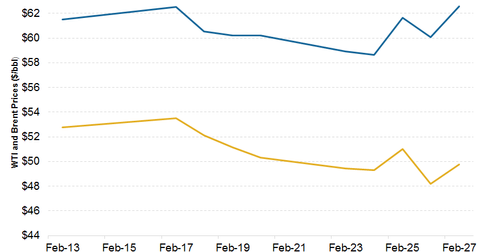 Crude prices saw another volatile week
By Keisha Bandz

Mar. 7 2015, Updated 9:05 p.m. ET
Oil price movement
Crude prices extended last week's decline. A slowdown in rig counts' weekly decline intensified anxiety related to oversupply. Also, news that Libya restarted a pipeline—implying smoother supplies—also created concerns regarding an imbalance between oil supply and demand.
WTI (West Texas Intermediate) fell ~1.7% to settle at $49.45. Brent fell ~2.2% to settle at $58.9 on Monday, February 23.
Declining for the fifth day in a row, crude prices fell more the next day. An analysts' survey indicated that another significant gain of 4 million barrels per day, or MMbbls/d, could be expected in the EIA's (U.S. Energy Information Administration) weekly inventory data—to be released the next day.
On Tuesday, WTI fell 0.3% to settle at $49.28. Brent fell 0.4% to settle at $58.66.
Article continues below advertisement
On Wednesday, crude prices inched higher despite a bearish inventory report—read Part 2. They were supported by the Saudi Arabia oil minister's announcement that said oil demand was rising. News that Chinese manufacturing was improving supported the fact that oil demand could likely be on its way to recovery.
On Wednesday, WTI increased 3.4% to $50.99. Brent increased 5% to $61.63.
Reflecting the volatility that's in the oil industry today, oil prices fell on Thursday. It was a result of the huge inventory increase. It was double what analysts expected.
On Thursday, WTI declined 5.5% to settle at $48.17. Brent fell 2.5% to settle at $60.05.
Prices rebounded on Friday as companies, like Chesapeake Energy (CHK) and Continental Resources (CLR), joined their peers to announce spending cuts. Other oil and gas companies that announced similar cuts include Chevron (CVX) and Occidental Petroleum (OXY). The activities are targeted to rebalance supply and demand.
Most of the companies mentioned above are part of the Energy Select Sector SPDR ETF (XLE). They account for ~17.2% of XLE.
On Friday, WTI increased 3.3% to settle at $49.76. Brent increased 4.2% to settle at $62.58.