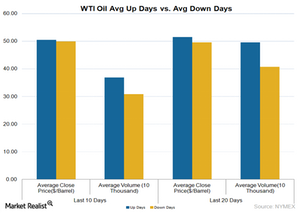 Crude oil prices gain as supply falls and demand outlook improves
Crude oil rallies
West Texas Intermediate (or WTI) crude oil futures for April 2015 futures contracts closed at $50.52 per barrel on March 3, 2015. Crude oil futures tested the highs of February 23 and 24. This is the third up day in the last ten days. The average up days have been 0.68% more than the down days over the same period.
April WTI crude oil futures settled at the day's high on March 3, 2015. They were up by 1.88%, with the day's volume totaling 351,790 contracts. Crude oil prices are in a long-term downward trend led by a massive oil surplus since mid June 2014.
Article continues below advertisement
Oil futures settle at the day's high
In February 2015, crude oil futures experienced high volatility. Bullish factors like a supply disruption from Libya, a rig count decrease, capital expenditure cut by oil exploring and production companies, and the consensus of a supply shortage supported the rise in oil prices. However, bearish factors like an oil glut and massive inventory buildup led to the decline in oil prices.
The U.S. Energy Information Administration (or EIA), on February 25, 2015, reported that weekly crude oil inventories rose by 8.4 million barrels (or MMbbls)—more than estimates. Unexpectedly, prices increased and settled 3.7% up for the day. Since then, we've seen a roller coaster ride for crude oil prices. Crude oil prices settled higher on March 3, 2015, led by supply disruptions in Libya and Iraq as well as an improving demand outlook.
The EIA will release the next crude oil inventory report on March 4, 2015. The market forecasts an increase of 4.1 million barrels in crude oil inventory. An increase in inventory generally has a downward impact on oil prices.
The increase in crude oil prices affects the margins of oil ETFs like the United States Oil Fund (USO) and the PowerShares DB Oil Fund (DBO). It also affects oil producers' profitability—companies like Anadarko Petroleum (APC), Chevron (CVX), and ExxonMobil (XOM).