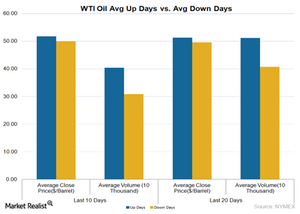 Crude oil gained – supply declined and demand outlook improved
By Gordon Kristopher

Nov. 20 2020, Updated 3:58 p.m. ET
Crude oil price movement
The April 2015 futures contracts for WTI (West Texas Intermediate) crude oil settled at $49.76 per barrel. They tested the highs of January 6, 7, 8, and 9 on February 27, 2015. This is the fifth up day in the last ten trading sessions. The average up days have been 0.28% less than the down days over the last ten days.
WTI crude oil closed at the day's high—up by 1.61% on February 27, 2015. The total traded volume for the day was 426,811 contracts. It was a decrease of 32,777 contracts from the previous trading session. WTI crude oil prices are trading almost 55% lower than the high in June 2014—driven by oil glut.
Article continues below advertisement
WTI oil futures posted first monthly gains since June 2014
WTI crude oil prices have been highly volatile in February 2015. They're driven by the tug of war between bulls and bears. Bears are beating down the oil prices on the forecasts of surplus oil supply and record inventory buildup. In contrast, bulls support the oil prices—led by the consensus of a supply shortage and improving demand. The recent record decrease in rig counts and supply disruptions in Libya, Syria, and Iraq will contribute to the supply decline.
Last week, on February 25, 2015, the EIA (U.S. Energy Information Administration) reported that commercial crude oil inventories rose by 8.4 million barrels, or MMbbls, for the week. This was above the forecast. Unexpectedly, prices closed 3.7% up for the day. Since then, crude oil prices have been volatile.
WTI crude prices ended their seven-month losing streak. They closed higher on Friday, February 27, 2015, and for the month—since June 2014. The rise was supported by improving demand outlook and the consensus of supply shortages.
The next US inventory report will be released on March 4, 2015. To learn more about crude oil inventories, visit Market Realist's Oil and Gas Inventories page.
Higher crude oil prices affect oil ETFs' margins—like the PowerShares DB Oil Fund (DBO) and the United States Oil Fund (USO). It's also positive for upstream oil companies' profitability—like Chesapeake Energy (CHK), Chevron (CVX), and ExxonMobil (XOM).