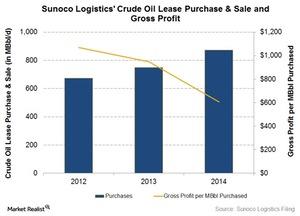 Crude Oil Acquisition and Marketing Is SXL's Largest Segment
By Alex Chamberlin

Updated
Crude oil purchase and sale business overview
We discussed Sunoco Logistics Partners' (SXL) crude oil pipeline business in the previous segment. Here, we'll discuss the company's crude oil acquisition and marketing segment, the highest revenue generator for Sunoco Logistics.
The crude oil acquisition and marketing business is important for Sunoco Logistics. The company's assets in the liquids energy sale and purchase business include 335 crude oil transport trucks and 135 crude oil truck unloading facilities. The company also uses third party owned transportation assets.
Article continues below advertisement
Primary functions
Sunoco Logistics performs a variety of functions in the crude oil business utilizing these assets, including:
purchasing crude oil from the producers and trading hubs
storing inventory when the futures price is higher than the spot price
profiting from buying and selling crude oil of different grades and locational price difference
marketing crude oil to major integrated oil companies, independent refiners, and resellers
As the graph above shows, crude oil marketing operations of some other master limited partnerships that are affected by similar factors include Plains All American Pipeline (PAA), Enterprise Products Partners (EPD), and Targa Resources Partners (NGLS). PAA and EPD together account for 18% of the Alerian MLP ETF (AMLP).
Contracts
In general, Sunoco Logistics enters into contracts with producers for a term of one year or less. In 2014, the company purchased 402,000 barrels per day (or bpd) from approximately 300 producers who operated ~64,000 active leases. The company also purchased ~480,000 bpd via exchange agreements in 2014.
As noted in the graph above, gross profit per barrel decreased 36% in 2014 from 2013.
Value drivers
Sunoco Logistics' (SXL) crude oil acquisition and marketing operations are affected by crude oil supply and demand level and relative fluctuations in crude oil price indices. Typically, Sunoco Logistics (SXL) can maximize profit when there is a high level of market volatility, favorable basis differentials, and a steep difference in futures price further out in time. Contango is when the futures price is higher than the spot price. Backwardation is the opposite of contango.
Read the following section to learn about Sunoco Logistics' (SXL) terminals segment.