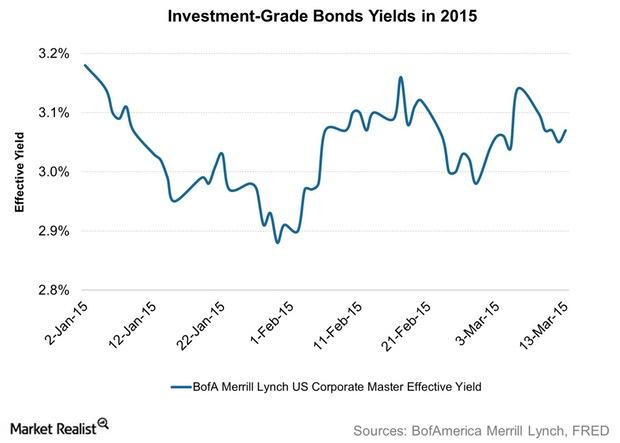 Corporate bond yields rise, spreads fall in 2015
Yields
Investment-grade bonds are considered safe when risks and volatility in financial markets increase. ETFs such as the iShares iBoxx $ Investment Grade Corporate Bond Fund (LQD) invest in investment-grade corporate debt issues of companies such as ConocoPhillips (COP), General Electric (GE), and Apple (AAPL).
Volatility is measured by the Volatility Index (or VIX) and is tracked by ETFs such as the iPath S&P 500 VIX Short-Term Futures ETN (VXX). For 2014, the VXX was down 26%, while the LQD returned 8.2%. Through March 13 this year, the VXX has fallen 10.8%, while the LQD is up 0.5%.
Article continues below advertisement
Corporates have issued bonds in droves so far in 2015 due to the low interest rate environment. With Treasury yields being battered in January, yields on high-quality bonds also came down. The low-yielding Treasuries made corporate bonds attractive, leading investors to invest in higher yielding investment-grade and high-yield debt and related ETFs.
Yield on the 30-year maturity Treasury bond fell to a low of 2.25% in the secondary market on January 30, 2015, the lowest so far this year. On the same day, yield on the ten-year Treasury security fell to 1.68%, also the lowest in 2015.
Meanwhile, the BofA Merrill Lynch US Corporate Master Effective Yield stood at 2.88% on the same day. So far, the effective yield, according to this measure, stands in the 2.88%–3.18% range in 2015, as of the week ended March 13. However, yields are down by 14 basis points from the level at the end of December 2014.
Article continues below advertisement
Spreads
The BofA Merrill Lynch Option-Adjusted Spread (or OAS) measures the average difference in yields between investment-grade bonds and Treasuries. To remain consistent with the definition of investment-grade corporate bonds, it considers only those debt issues that are rated BBB- or higher on the rating scale.
Worsening credit conditions can be seen when these spreads widen. They are also associated with slower growth and generally worse economic conditions. On the other hand, low or tight spreads coincide with faster growth and generally better economic conditions.
In 2014, spreads by this measure ranged between 1.06% and 1.51%. Through March 13, 2015, spreads have ranged between 1.29% and 1.53%. This is primarily because of a fall in Treasury yields. Spreads have fallen as the year has progressed. The OAS averaged 1.50% in January 2015. The average fell to 1.43% in February. In March, it stands further reduced at 1.31%.