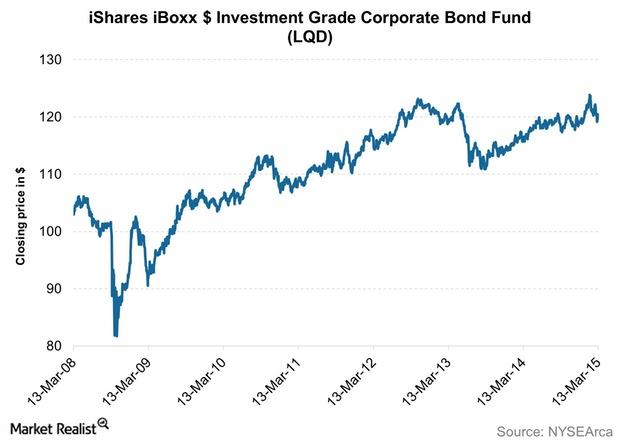 Why did corporate bond yields fall last week?
By David Ashworth

Aug. 18 2020, Updated 5:30 a.m. ET
European bond-buying program
The stronger-than-expected non-farm payrolls report pushed corporate bond yields higher in the week ended March 6. Matters turned to overseas developments last week.
The ECB (European Central Bank) announced a massive stimulus program in January 2015. It entailed buying assets worth 60 billion euros every month, including government bonds, European debt securities, and private bonds. In total, the ECB's stimulus will stand at more than 1 trillion euros when the buying ends in September 2016. That program kicked off last week and was the major market mover.
Article continues below advertisement
Due to buying by European central banks, yields on European bonds fell. Since yields on U.S. Treasuries were higher than yields on European government bonds, the fall made U.S. Treasuries attractive. With investors flocking to U.S. Treasuries in search of higher yield, yields on US sovereigns fell in the week ended March 13. Along with Treasury yields, corporate bond yields also fell.
Investment-grade bonds refer to U.S. Treasuries, which are issued by the U.S. Treasury Department, and corporate bonds, which are issued by high-quality corporate borrowers. Credit ratings agency S&P (Standard & Poor's) considers those issuances investment-grade that have a rating of BBB- and above.
ETFs such as the iShares Barclays 20+ Year Treasury Bond Fund (TLT), the iShares Barclays 7–10 Year Treasury Bond Fund (IEF), and the iShares Barclays 1–3 Year Treasury Bond Fund (SHY) invest in U.S. Treasuries of varying maturities.
On the other hand, ETFs such as the iShares iBoxx $ Investment Grade Corporate Bond Fund (LQD) invest in investment-grade corporate debt issues. Debt issued by companies such as Verizon (VZ), Goldman Sachs (GS), and General Electric (GE) are among LQD's major holdings.
Yield movement
When the ECB began bond buying on March 9, the BofA Merrill Lynch US Corporate Master Effective Yield fell that day, the sharpest in one-day movement in the week. Yield fell 4 basis points on March 9 to end at 3.10%. Meanwhile, yield on the ten-year Treasury note on the secondary market also fell by 4 basis points on the day to close at 2.20%.
In this series, we'll look in detail at investment-grade corporate debt issuances for the week ended March 13. But first, let's take a look at how yields on corporate bonds have fared in 2015 so far.