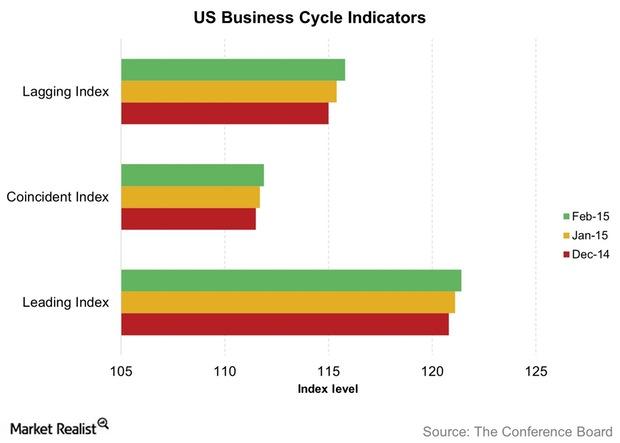 The Conference Board's Leading Economic Index Rises
Business cycle indicators
The Conference Board, an independent research association, publishes leading, coincident, and lagging indices for the United States every month. These composite economic indices are published with the intention of signaling peaks and troughs in the business cycle.
As the name suggests, the indices are composed of leading, coincident, and lagging indicators. Because they're composite indices, they smooth out the volatility in any single component.
Article continues below advertisement
Leading Economic Index
The Leading Economic Index (or LEI) is comprised of ten leading indicators. Following are some of those indicators:
average weekly hours, manufacturing
average weekly initial claims for unemployment insurance
building permits, new private housing units
Out of the three composite indicators, the LEI assumes the most important since it intends to indicate what's going to happen in the future. A rise in the LEI indicates better future conditions.
The LEI for February 2015 increased by 0.2% to 121.4. This was the sixth straight month the index reported a rise. It had increased by 0.2% in January and 0.4% in December. Take note that this indicator is subject to revisions if any of its components get revised or if the Conference Board conducts annual benchmark revisions.
The LEI rose in February as seven of the ten components rose. This compares to five of the ten rising in January. The interest rate spread, or the difference between the ten-year Treasury yield and the federal funds rate, was the biggest contributor to the rise.
Stock prices and building permits (LOW) (HD) (DRH) also helped the LEI rise. On the other hand, an increase in jobless claims and a drop in average weekly manufacturing hours contributed negatively in February.
Coincident Economic Index
The Coincident Economic Index (or CEI) is composed of four indices. All of them contributed to the index's 0.2% rise in February 2015. This was the sixth straight month in which all four component indices of the CEI have risen.
Employees on nonagricultural payrolls, or non-farm payrolls, has the highest weight of 52.8% in the CEI and was also the biggest positive contributor for February.
Lagging Economic Index
The Lagging Economic Index (or LAG) rose 0.3% in February 2015 with four of its seven components rising for the month. The change in average duration of unemployment (inverted) was the biggest contributor to the rise in the LAG.
In the next article, let's look at the status of US securities holdings by foreigners.