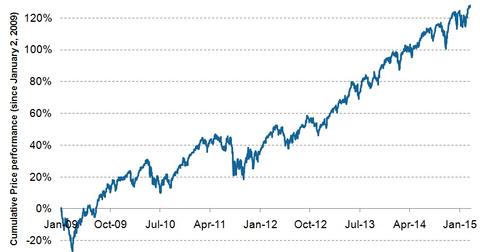 Composite stock market indices indicate forward-looking growth
By Surbhi Jain

Mar. 11 2015, Updated 1:06 p.m. ET
Some background on our analysis
Let's take a look at some countries where monetary easing measures targeting growth have been initiated over the past five years. We've already discussed how such easing measures lead to a depreciation in the country's currency. We discussed this in Part 5 of this series. Now, we'll analyze whether these measures have been effective in boosting growth in these economies.
Article continues below advertisement
Methodology used
We'll look at three major world economies—the US, Europe, and Japan. We'll pair these economies' currency rates against the performance of their economy tracking ETFs. The ETFs taken into consideration represent the overall economic growth in these economies. The SPDR S&P 500 ETF (SPY) represents the state of the US economy. It represents the large capitalization sector of the US equity market. It's invested in companies like Apple (AAPL) with 3.9%, ExxonMobil (XOM) with 2.1%, and Microsoft (MSFT) with 1.9%.
Similarly, the performance of the Vanguard FTSE Europe ETF (VGK) serves as a good reflection of where the European economy is heading. Any major upswings or downswings in the health of the Japanese economy can easily be gauged by the performance of the iShares MSCI Japan ETF (EWJ).
Stock market is a forward-looking growth indicator
It's important to note that these ETFs track market indexes. A market index acts as a forward-looking growth indicator for an economy. Most economies publish their GDP (gross domestic product) figures with a lag. Also, since the GDP numbers reflect how performance has been over the past term under consideration, we consider it to be a backward-looking indicator.
Now, since the foreign exchange markets and the equity markets are driven more by market expectations in the future, we prefer using the performance of these ETFs as a measure to gauge economic growth.