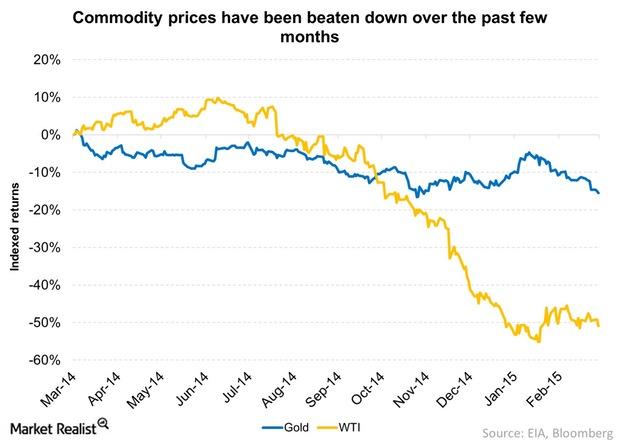 Commodity Prices Have Been Hammered in the Last Few Months
By Russ Koesterich, CFA

Mar. 26 2015, Updated 5:06 p.m. ET
But the biggest losses were once again in the commodity sector. U.S. benchmark WTI crude slipped below $50/barrel, the lowest level since July 2009. With risky assets selling-off, investors are fleeing to safe havens such as German bunds and U.S Treasuries.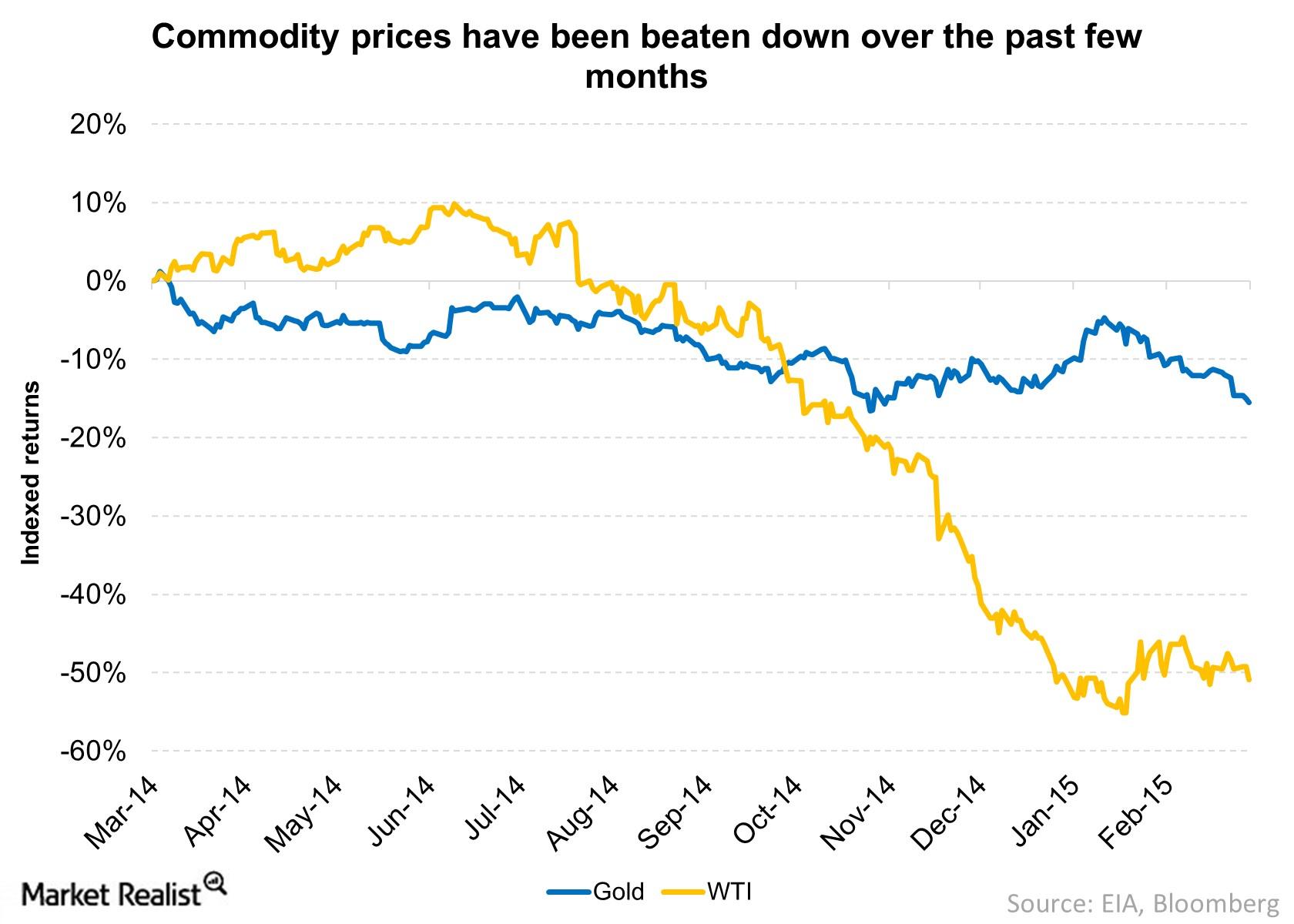 Article continues below advertisement
Market Realist – Commodity prices have been hammered recently due to weak demand.
The graph above compares the performance of two major commodities—gold (GLD)(IAU) and oil (USO)—over the last 12 months. Oil has slumped by a whopping 50.9% in that period, whereas the loss on gold prices has been relatively muted, at 15.5%.
The dip in oil prices is due to demand and supply factors. Muted demand for oil and higher supply due to increased oil production in the United States has caused oil prices to plunge. Other major oil producers haven't cut their supply yet.
Meanwhile, gold has been underperforming equities (IVV) over the last three years or so. While it's considered a safe haven—due to its low correlation with other assets—it still has bouts of volatility itself. However, if volatility in equities persists, gold could perform well. However, higher interest rates on the horizon and weak demand are major headwinds for gold.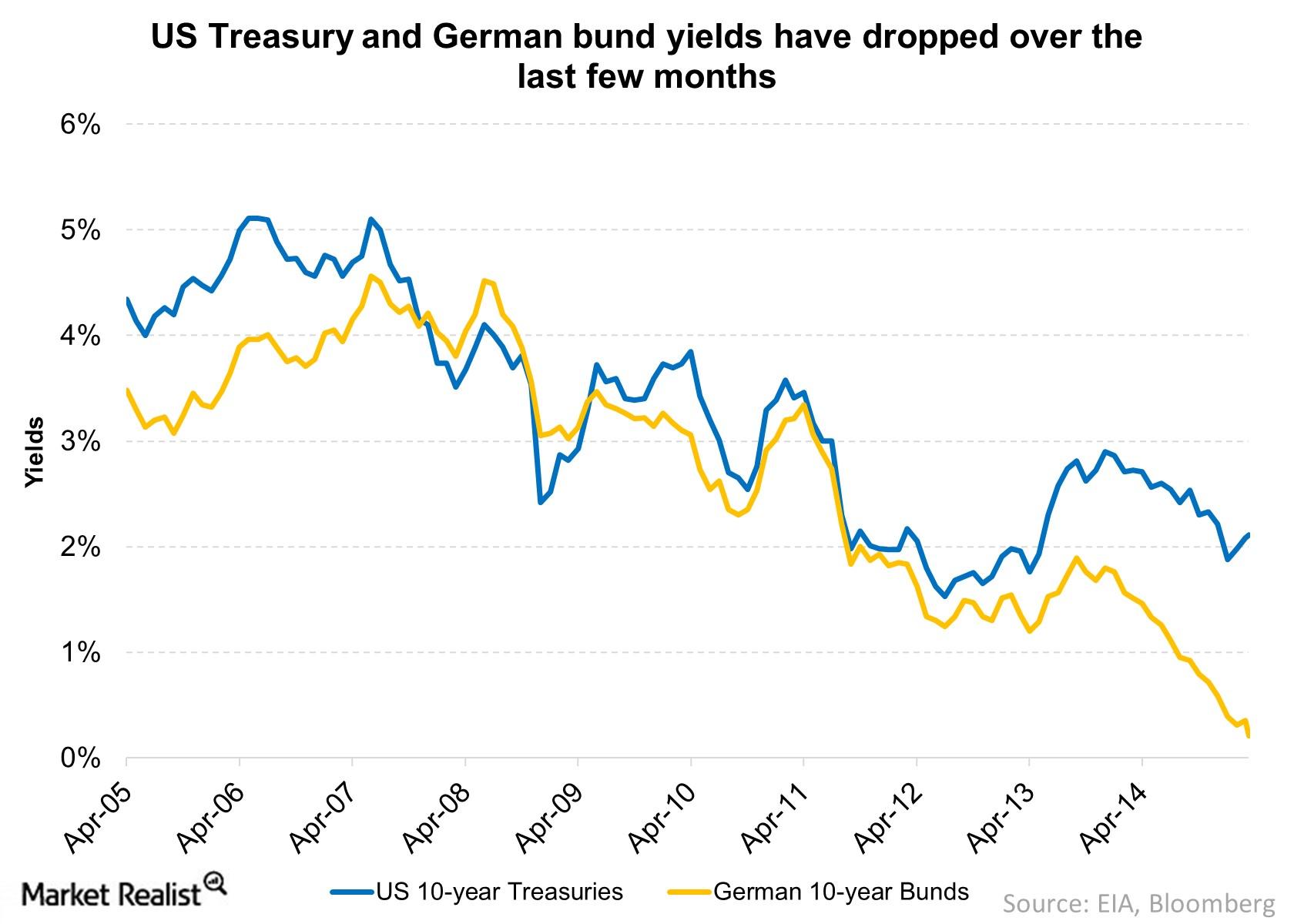 US Treasury (TLT) yields have been dipping due to the Fed's bond buying program, which saw aggressive Treasury buying. Earlier this year, ten-year Treasury (IEF) yields dipped below 2%, as investors sought safety from risky assets due to fears of Greece exiting the European Union. However, lately, the yields jumped back to above 2%, as Greece got a four-month bailout extension and as the US economy is showing further signs of improvement, which means that the Fed could hike rates earlier than expected. However, US Treasury yields may not increase to a great extent even after the hike, as major international government bond yields remain at near-zero levels. This could keep its demand high going forward, as US Treasuries are considered to be safest.
German ten-year bunds are currently trading at 0.2%, and they've been battered down because of the flight to safety in Europe and, more recently, the launch of quantitative easing in the European Union, which may keep bund yields low for at least a year.