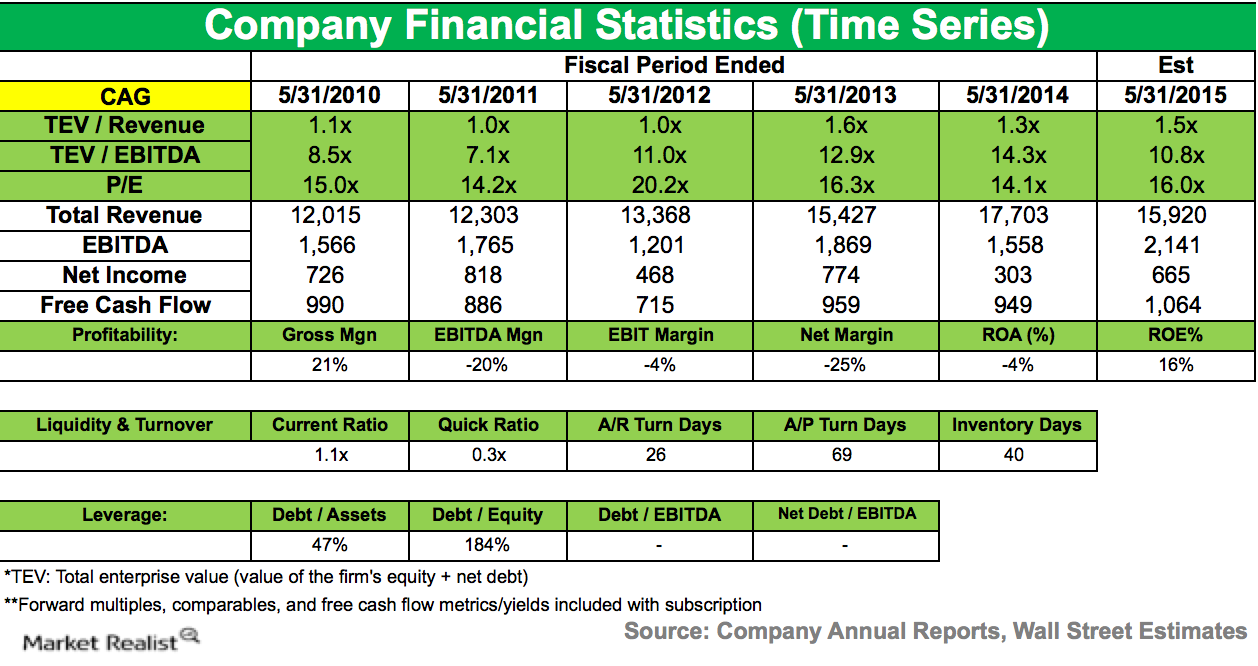 Citadel Advisors Adds a New Position in ConAgra Foods
By Diana Key

Mar. 31 2015, Updated 10:17 a.m. ET
Citadel Advisors and ConAgra Foods
During the fourth quarter of 2014, Citadel added a new position in ConAgra Foods (CAG). Citadel held 4,040,849 shares of CAG, which accounted for 0.177% of the fund's 4Q14 portfolio. CAG has exposure to the iShares S&P 500 Index (IVV) and the Consumer Staples Select Sector SPDR Fund (XLP). CAG accounts for 0.09% and 0.94% of IVV and XLP, respectively.
Article continues below advertisement
About ConAgra Foods
ConAgra Foods is a North American packaged food company. It sells branded and its own private brand to customers as well as restaurants and foodservice operations globally. It also supplies frozen and sweet potato products as well as other vegetable, spice, and bakery products. Its well known brands include Banquet, Chef Boyardee, Egg Beaters, Healthy Choice, Hebrew National, Hunt's, Marie Callender's, Orville Redenbacher's, PAM, Peter Pan, Reddi-wip, Slim Jim, Snack Pack, and many others. The company reports its operations in three segments:
Consumer Foods
Commercial Foods
Private Brands
In 2Q15, consumer segments accounted for 48% of the total revenue, followed by commercial and private brands with contribution of 27% and 25%, respectively.
ConAgra lowers the profit forecast for 3Q15
The company expects a comparable earnings per share (or EPS) for fiscal year 2015 to be in the range of $2.13 to $2.18. Previously, the company expected to post a mid-single digit rate of comparable EPS growth as the $2.17 in 2014. The strengthening of the US dollar against other currencies impacted the EPS. Shares dropped 3% in after hours trading on the news of lower profit forecast.
Article continues below advertisement
ConAgra is one of "the industry's cheapest stocks"
CAG acquired a private label food maker, Ralcorp, in January 2013 for $6.7 billion to strengthen its operations in its private brand portfolio. But profitability in the private brands segment was weaker than planned due to a "highly competitive bidding environment, as well as execution shortfalls." The company is implementing changes to improve this business and expects good results in 2016.
Bloomberg reported in September that ConAgra is "the only food-products maker in the Standard & Poor's 500 Index that's handed losses to shareholders, making it one of the industry's cheapest stocks." As per the report, Rhino Trading Partners suggested that the company break up and sell some of its business.
ConAgra's CEO stepped down on failure to prove Ralcorp purchase as worthy
In August 2014, CAG's CEO, Gary Rodkin, announced his plans to step down, as he could not prove his decision to acquire Ralcorp would be beneficial. In February, ConAgra announced appointment of a new CEO, Sean Connolly, who headed Hillshire Brands before selling it to Tyson Foods (TSN) last year.
According to the Wall Street Journal, several food makers announced changes in the leadership recently, as the industry is struggling to "adapt to shifting consumer tastes and global economic challenges." Like CAG, Kellogg (K) and Kraft Foods (KRFT) also changed leadership after reporting losses in their latest earnings release.
Ongoing longshoremen labor dispute challenges the situation further
The labor dispute on the West Coast has continued longer than the company expected it would. The situation has negatively impacted the commercial segment due to lower exports to international markets. The company expects the dispute to continue in the spring.
In the next part of this series, we'll discuss Citadel's position change in Altera Corporation.