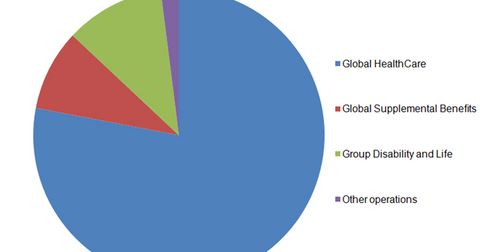 Cigna: Medicare and Medicaid Beneficiaries Top Earners
By Margaret Patrick

Updated
Business segments
Players in the health insurance industry (IYH) rely on an optimal business mix that diversifies business risks while ensuring sustainable profits.
Out of Cigna's (CI) four business segments, Global HealthCare accounted for 78% of the company's revenue, as you can see in the chart below. This segment was followed by the Group Disability and Life, Global Supplemental benefits, and Other operations segments, which reported 11%, 9%, and 2% revenues in 2014, respectively.
Article continues below advertisement
Global HealthCare
The Global HealthCare segment provides services such as medical, dental, behavioral health, vision, and pharmacy insurance for employer-sponsored as well as Medicare and Medicaid beneficiaries. The company's product suite includes offerings such as PPO (preferred provider organization) and HMO (health maintenance organization) as well as health technology and consumer-centric solutions.
To earn sustainable profits, health insurance companies such as Centene (CNC), Humana (HUM), Cigna (CI), and Aetna (AET) have adopted a diversification strategy both across products and markets. Cigna offers a variety of health insurance products either directly or through its partners in 50 states in the US, the District of Columbia, the US Virgin Islands, Canada, Europe, the Middle East, and Asia.
Group Disability and Life
The Group Disability and Life segment provides group long- and short-term disability insurance, life insurance, accident, and specialty insurance to members in 50 states in the US, the District of Columbia, Puerto Rico, the US Virgin Islands, and Canada. Group life insurance products are mainly offered by employers and provide protection against loss of income in case of the death of the insured employee. Group disability insurance products offer income protection for members in case of a disability by providing for a part of the lost income for a specified period of time.
Article continues below advertisement
Global Supplemental Benefits
The Global Supplemental Benefits segment provides supplemental health, life, and accident insurance products in Asia, Europe and the US. These products provide some degree of coverage for circumstances such as personal accident, accidental death, critical illnesses, hospitalization, dental, cancer, and other diseases.
Other operations
Cigna's other operational segment involves corporate-owned life insurance products sold to corporations to provide coverage for certain employees, as well as the company's now closed reinsurance business.