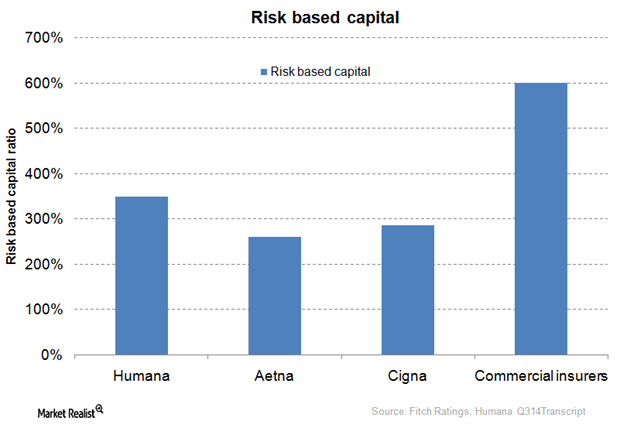 Cigna Controls Risk-Based Capital Requirements
Financial risk
The NAIC (National Association of Insurance Commissioners), a US standard-setting and regulatory support organization, imposes capital requirements on the insurance business called RBC (risk-based capital) requirements. These requirements specify the minimum amount of capital that a health insurance company should possess in order to protect its customers and investors should it ever experience unexpected losses.
The above graph shows the RBC ratios of managed care organizations (IYH) such as Humana (HUM), Aetna (AET), and Cigna (CI), as well as the average RBC ratio of commercial health insurers such as MetLife (MET) and Lincoln National Corporation.
Article continues below advertisement
Risk-based capital
An RBC ratio above 200% indicates a company with a stable capital base. If the ratio falls below 200%, the insurance company has to initiate actions to increase its capital or face disciplinary actions.
Companies with higher RBC ratios generally enjoy better credit ratings. And commercial insurers generally maintain higher RBC ratios than managed care organizations because they have higher ratings from the rating agencies. Humana has an investment-grade BBB rating and has a higher RBC ratio than prominent managed Medicaid players that don't generally have investment-grade ratings.
Diversification
The appropriate RBC ratio level for a health insurer depends on the company's size and the degree to which it takes different risks:
investment risk
underwriting risk
credit risk
business risk
Companies with diversified businesses generally have lower RBC requirements because diversification reduces the riskiness of their cash flow. Cigna's business model is more concentrated toward commercial enrollments but is diversified across various delivery platforms. This has given Cigna a higher RBC ratio than Aetna, which has a more diversified business model. Humana's business is heavily focused on government-sponsored Medicare enrollments and as a result, it has the highest RBC ratio.