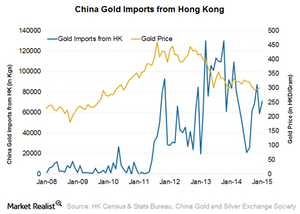 China's importing gold from Hong Kong, a sign of strong demand
By Anuradha Garg

Mar. 13 2015, Published 2:54 p.m. ET
China: The world's largest gold market
In 2013, China became the world's largest gold market. It accounts for about a third of global gold demand. The World Gold Council (or WGC) expects demand from China to grow by at least another 20% by 2017.
Because of China's sheer size, investors need to monitor physical gold demand trends in China. These impact overall gold demand and gold prices. To learn more, read Market Realist's article Why gold is important in China.
Article continues below advertisement
Imports surge in January
China doesn't publish gold import or export data. As a result, we'll rely on data from Hong Kong's gold exports to China. The Census and Statistics Department in Hong Kong releases data every month.
China is importing gold from Hong Kong. Net imports from Hong Kong to mainland China totaled 71.6 metric tons in 2014 compared to 58.8 tons in December. This strong 21.8% month-over-month demand was mainly due to the Chinese New Year that fell on February 19.
Investors should watch for any sustained uptrend in gold imports after the Chinese New Year. This will help you decide if this buying by China could support falling gold prices due to the strength of the US dollar.
Physical buying and gold prices
Strong physical demand from the world's largest consumer boosts the price of gold. Physical buying by China and India came to the rescue of falling gold prices in 2013 when ETFs were on a selling spree. These purchases increase gold prices as well as sustain gold-backed ETFs such as the SPDR Gold Trust (GLD).
As we saw previously in this series on gold, there are other factors that affect gold demand and are more important right now for gold stocks such as Goldcorp (GG), Barrick Gold (ABX), Newmont Mining (NEM), Kinross Gold (KGC), and Yamana Gold (AUY). They're also important to ETFs such as the VanEck Vectors Gold Miners ETF (GDX). GDX invests in senior and intermediate gold producers. The companies mentioned here form 32.7% of its total holdings.