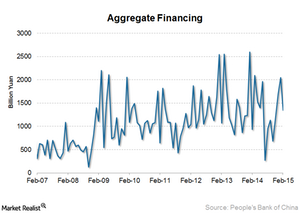 China's Credit Growth Increased in February
By Anuradha Garg

Apr. 8 2015, Updated 5:05 a.m. ET
Credit availability
Financing, or the level of credit available, is crucial because it stimulates consumption and investment in the economy. By tracking the state of financing, investors can gauge patterns that forecast future demand.
Most of China's banks are owned by the state. The Chinese government exercises great control over consumption and investment patterns. The government regulates finance through issuing new loans, the money supply, and social financing.
Article continues below advertisement
Aggregate financing strong
Aggregate financing, China's broadest measure of new credit and liquidity, came in at 1,350 billion yuan in February. It was down from 2,051 billion yuan in January. This was a decrease of 34.2% month-over-month. It was an increase of 44.1% YoY (year-over-year). This was higher than the consensus of 1,000 billion yuan.
New yuan loans up
New yuan loans measure new lending minus loans repaid. They came in at 1.02 trillion yuan in February—compared to 1.47 trillion yuan for January. This is also higher than estimates of 750 million yuan.
Article continues below advertisement
M2 money supply rebounds 
China's M2 money supply measures M1—cash and checking deposits—and near money. This includes savings deposits, money market mutual funds, and other time deposits. M2 rose by 12.5% in February compared to the same period last year. It was 10.8% YoY in January. This is also higher than the market consensus of 11% growth.
Overall, the credit growth picture for China was positive for February. However, monitoring additional data points would provide more convincing evidence of sustainable, positive credit growth going forward.
China's credit growth impacts companies like Rio Tinto (RIO), BHP Billiton (BHP), Vale SA (VALE), and Cliffs Natural Resources (CLF). It also impacts the iShares MSCI Global Metals & Mining Producers ETF (PICK) and the SPDR S&P Metals & Mining ETF (XME). PICK invests in the iron ore sector. It has 18.5%, 2.7%, and 11% holdings in BHP Billiton, Vale, and Rio Tinto, respectively. XME also invests in some of these stocks.