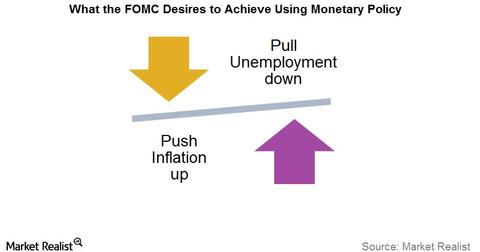 Why Charles Evans Supports Goal-Oriented Monetary Policy
By David Ashworth

Mar. 31 2015, Updated 5:06 p.m. ET
Goal orientation
Charles Evans is the chief of the Chicago Federal Reserve and a voting member this year on the FOMC (Federal Open Market Committee), which is the US Federal Reserve's committee on monetary policy.
Evans opined that a goal-oriented approach to monetary policy is apt. However, he was quick to point out that this approach is different from an "instrument-rule" approach. Evans's primary reference was to the Taylor rule, which mandates fixing the change in the federal funds rate to a quantitative model, which takes the change in inflation rate and unemployment, among other indicators, as input.
Article continues below advertisement
Rule versus goal
For some time now, US Republicans, who control both the House and the Senate, have been asking the Fed to tie its decisions on interest rates to a formal rule, like the Taylor rule. According to the Republicans, this will make the central bank more accountable for its decisions.
Charles Evans noted that a goal-based approach is necessary so that the Fed achieves its dual mandate in a "reasonable amount of time while minimizing potential risks associated with uncertainty over the course of future economic events." However, tying the approach to a mathematical equation or quantitative model would undermine the risks associated with the projected outlook for the economy, the labor markets, and inflation.
A change in the federal funds rate has implications across the financial markets. While Treasuries and bonds may begin to see rising yields, which would hurt investors in ETFs like the iShares Barclays 20+ Year Treasury Bond Fund (TLT), corporates like JP Morgan (JPM), General Electric (GE), and Verizon (VZ) may find it more expensive to issue bonds. Due to divergent monetary policies across the world, the already strong dollar may further appreciate. The PowerShares DB US Dollar Index Bullish Fund (UUP)—which tracks the greenback's rise against currencies like the euro, the Japanese yen, and the British pound—is up over 19% from a year ago.
With employment on track, Charles Evans focused on inflation and his concerns regarding inflation. Let's take a look at those concerns in the next article in this series.