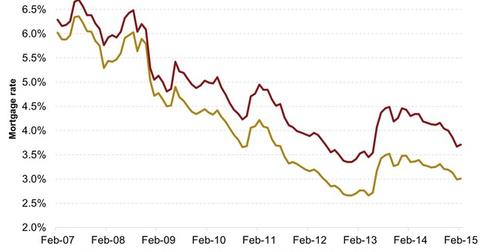 Why Charles Evans Supports Delaying a Rate Hike in 2015
By David Ashworth

Updated
Uncertainty about inflation
Charles Evans, the Chief of the Chicago Fed, estimates that the PCE (Personal Consumption Expenditures) price index will rise to 2% only by 2018. So he supports raising the federal funds rate only in 2016, when there's enough credence of inflationary pressures in the economy.
The Chicago Fed's model for projecting inflation had, in 2013, expected core PCE inflation to be 1.4% in 2014, while the Survey of Professional Forecasters was expecting a 1.7% growth rate for the year. Core PCE inflation strips off volatile items like food and energy prices while calculating price rises. The actual core PCE inflation turned out to be 1.4% in 2014. Currently, the Chicago Fed model is projecting that "average annual total PCE inflation between February 2018 and February 2021" will be only 1–1.5%. This low growth is behind Charles Evans's advice against raising interest rates in 2015.
What could happen if the Fed raised rates either too early or too late?
Too early
If policymakers raised rates by assuming that the economy is stronger than it actually is, it could stifle economic growth. For instance, the US housing market has remained sluggish even though mortgage rates have been low. Credit conditions are partly responsible for the sluggishness, along with low housing inventory, which has pushed prices up. If a rise in the interest rate were to push mortgage rates higher, the housing market would find recovery even more difficult. First-time homebuyers, which formed a low 29% of existing home sales in February, may stall their plans to purchase a home.
This trend would not only affect homebuilders like KB Home (KBH), PulteGroup (PHM), and D.R. Horton (DHI) as well as related ETFs like the iShares Dow Jones US Home Construction Index Fund (ITB). It would also affect the broader equity market and ETFs like the iShares Core S&P 500 ETF (IVV). Other interest rate–sensitive sectors would likely react similarly.
This outlook could force the Fed to reduce rates back to the ZLB (zero lower bound).
Let's look at the implications of reducing rates back to the  ZLB and the "too-late" scenario in the next article of this series.