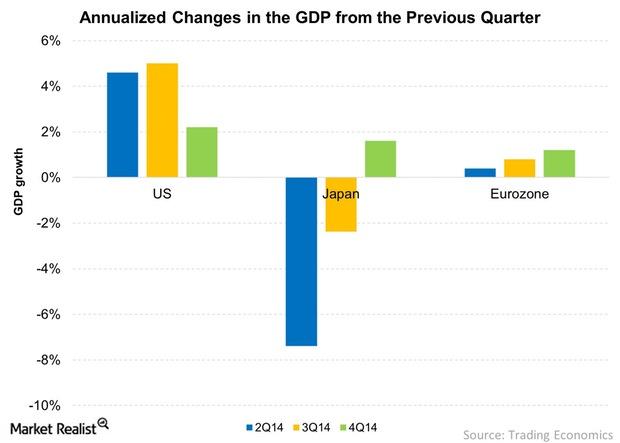 Central Bank Divergence Led to a Stronger US Dollar
By Daniel Gamba

Mar. 19 2015, Updated 5:07 p.m. ET
We believe this dollar rally will have legs, as global economies – and consequently, monetary policy – continue to diverge. Both the BoJ and the European Central Bank (or ECB) have been injecting stimulus in an effort to boost growth, even as the Federal Reserve (the Fed) begins turning off the spigot as the U.S. economy improves.
Article continues below advertisement
Market Realist – The disparity in GDP growth in the US and other major developed economies led to central bank divergence.
The graph above compares the annualized quarter-over-quarter GDP (gross domestic product) growth in the US, Japan, and the Eurozone for the last three quarters.
Currently, the US (SPY)(VOO) is the only bright spot in developed markets (VEA). Its GDP grew at an annualized rate of 4.6%, 5%, and 2.2%, respectively.
The robust nature of growth in the US could lead to an interest rate hike as early as June.
Meanwhile, the Japanese (DXJ) and European economies (EZU)(VGK) have been grappling with recessionary pressures. The annualized growth rate in Japan for 2Q14, 3Q14, and 4Q14 was -7.4%, -2.4%, and 1.6%, respectively. The massive de-growth in the second quarter was mainly due to the hike in consumption tax from 5% to 8%.
The European economy has been in the doldrums since the financial crisis. The Eurozone saw growth rates of 0.4%, 0.8%, and 1.2%, respectively, in the last three quarters.
Usually, the economy with stronger economic growth will have a stronger currency compared to the rest of the economies. This is one of the reasons why the US dollar has been strengthening. Also, an economy with higher interest rates will see more inflows in the short term. This leads to a stronger currency due to higher demand.
Currently, the BoJ (Bank of Japan) and the ECB (European Central Bank) are pumping money into their respective economies in order to stimulate demand. This will put a lid on interest rates in their respective economies.
Meanwhile, an improvement in the US labor market could mean higher interest rates sooner rather than later. The combination of these factors means that the US dollar (UUP) could strengthen more against the euro and the yen. To an extent, the currency market has partially factored in these moves.