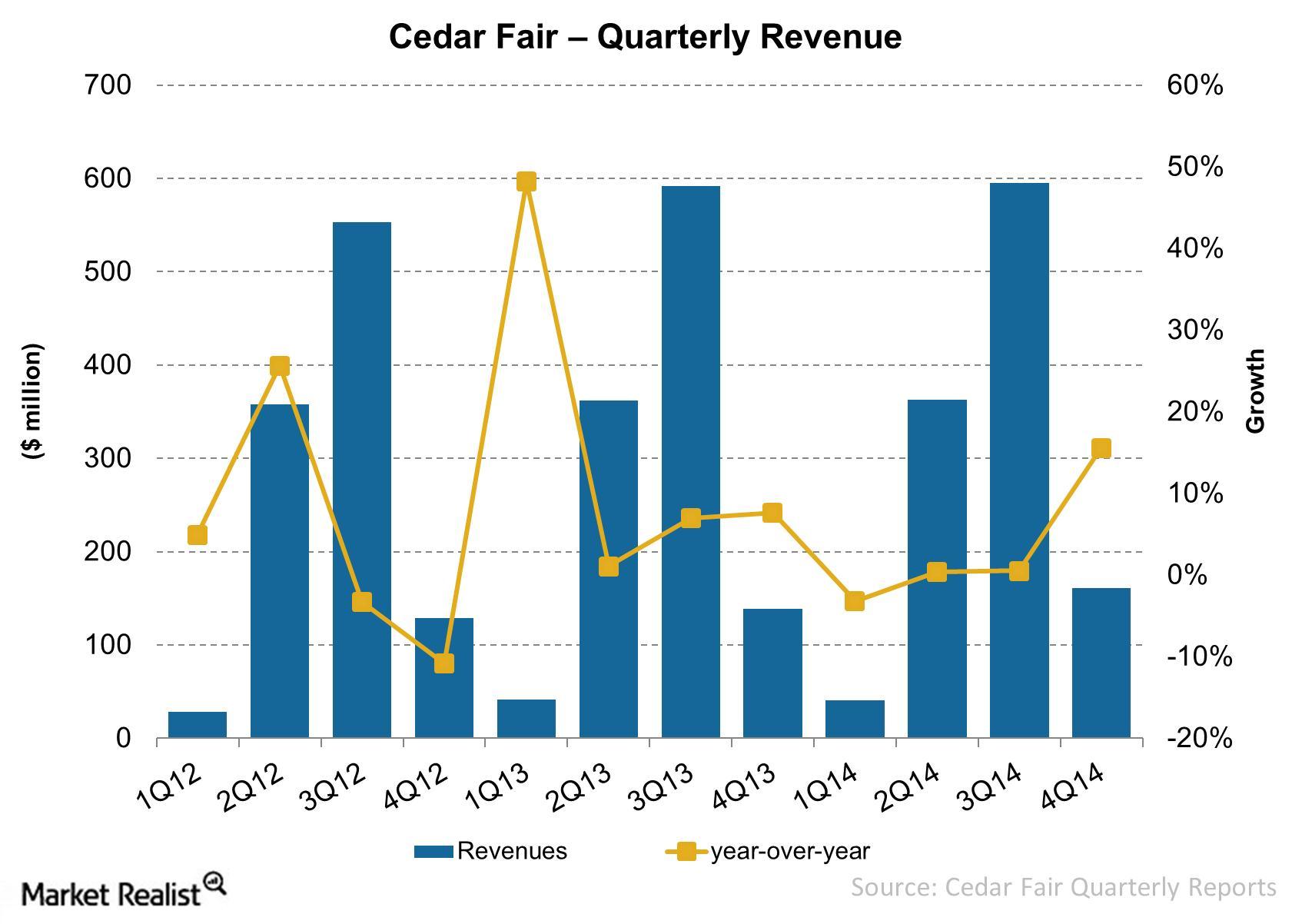 Why Cedar Fair's revenue increased
By Shawn Bolton

Mar. 2 2015, Published 1:23 p.m. ET
Results overview
On February 19, 2015, Cedar Fair (FUN) released its results for 4Q14 and fiscal 2014 ended December 2014. Both 4Q and fiscal 2014 revenues increased on a year-over-year (or YoY) basis. Theme park operators like Six Flags Entertainment (SIX) have also reported their 4Q14 results recently with revenues increasing both on a quarterly as well as a full-year basis. SeaWorld Entertainment (SEAS), another theme park player, is scheduled to release its 4Q14 and fiscal 2014 results on February 26.
Investors can hold a diversified portfolio in leisure companies by investing in ETFs like the Consumer Discretionary Select Sector SPDR Fund (XLY). XLY has highest exposure of ~7% in The Walt Disney Company (DIS).
Article continues below advertisement
Revenue 
Cedar Fair's revenue increased by 15.6% year-over-year (or YoY) to $160.8 million in the fourth quarter of 2014 and reported record full-year net revenues of $1.16 billion, up 2% from 2013. This 2% increase in net revenues was driven by a 3%, or $1.39, increase in average in-park guest per capita spending to a record $45.54 and a 2%, or $3 million, increase in out-of-park revenues to $127 million. This increase was slightly offset by a 1% decrease in attendance to 23.3 million visitors.
Key takeaways from the 4Q14 earnings call
Brian C. Witherow, CFO and executive vice president of Cedar Fair, said, "For the year, we reported revenue growth of $25 million, or 2%, to $1.16 billion. This was primarily driven by a 3% or $1.39 increase in average in-park guest per capita spending, which reached an all-time high of $45.54. Driving the increase in guest spending was a 3% increase in our admissions per cap and a 4% increase in pure in-park spending."
About Cedar Fair
Founded in 1983, Cedar Fair owns and operates 11 amusement parks, three outdoor water parks, one indoor water park, and five hotels. The company is one of the largest regional amusement park operators in the world. Cedar Fair is headquartered in Sandusky, Ohio.