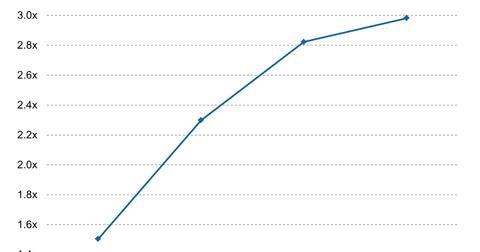 Why Cedar Fair will save on annual cash interest
By Shawn Bolton

Updated
Liquidity
Interest coverage ratio (or ICR) is a measure of a company's ability to meet its interest payments. ICR is equal to earnings before interest and taxes (or EBIT) divided by interest expenses for a given period. This measures the number of times a company could make the interest payments on its debt with its EBIT. An ideal ICR ratio is over 1.5x. A ratio under 1.0x means a company is having problems generating enough cash flow to pay its interest expenses.
The above chart shows that Cedar Fair's (FUN) ICR has further increased from 2.8x in 2013 to around 3.0x in 2014. For companies like Six Flags Entertainment (SIX), ICR declined from 3.7x in 2013 to 3.1x in 2014.
Cedar Fair's cash flows from operations and credit facilities are expected to be sufficient to meet its working capital needs, debt service, planned capital expenditures, and distributions for the foreseeable future.
As of December 31, 2014, Cedar Fair had $609 million of variable-rate debt, $950 million of fixed-rate debt, no outstanding borrowings under its revolving credit facilities, and cash on hand of $132 million.
Article continues below advertisement
Cedar Fair's management comments
Brian C. Witherow, Cedar Fair's CFO and executive vice president, said, "Our liquidity and cash flow remain strong. We have an attractive capital structure in place, further solidified in 2014 by the placement of a 10-year unsecured bond, which we expect will result in annual cash interest savings of approximately $13 million going forward. Our capital structure is also supported by the strength of our unit price, which is backed by a growing distribution. We believe this places us in a strong position to capitalize on a variety of opportunities, ultimately creating added value for our unit holders over the long term."
Investing through ETFs
ETFs like the Consumer Discretionary Select Sector SPDR Fund (XLY) invest in leisure companies. XLY has highest exposure of ~7% in The Walt Disney Company (DIS).
Investors who are looking to invest in dividend-paying companies may invest in ETFs like the Global X SuperDividend (DIV). DIV tracks the performance of companies that rank among the highest dividend-yielding equity securities in the United States.