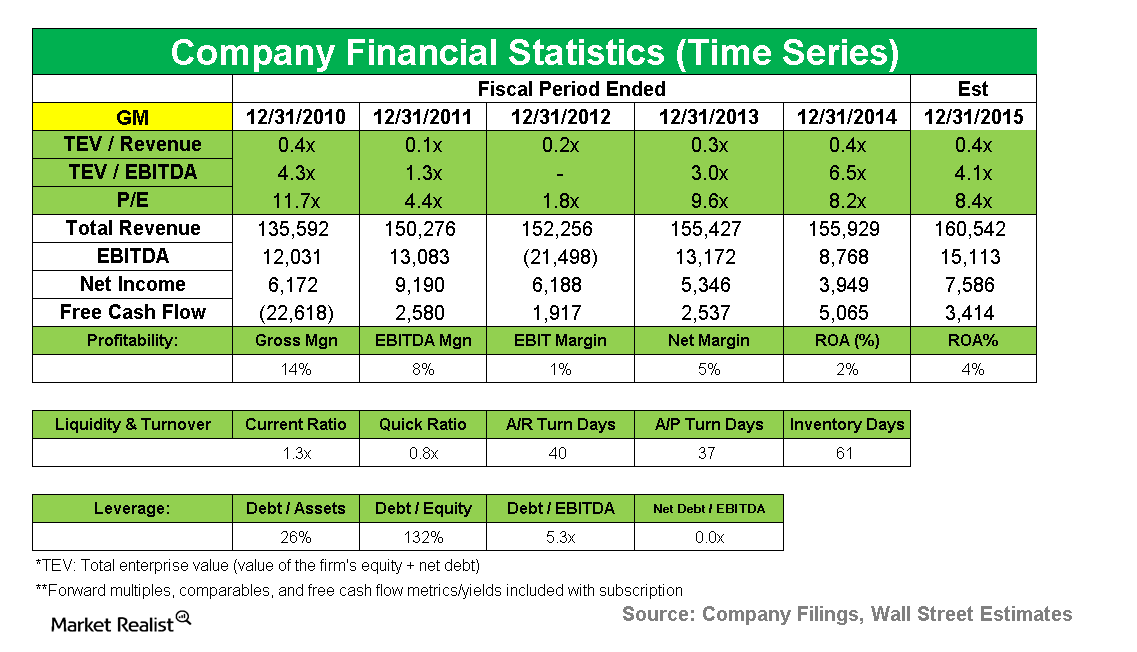 Caxton adds General Motors to its portfolio
By Stuart McKenzie

Mar. 5 2015, Updated 11:12 a.m. ET
Caxton's holdings in General Motors
Caxton Associates initiated a new stake in General Motors (GM), as disclosed in its recent 13F filing. The filing revealed that the fund held 1,244,000 shares of the company in its 4Q14 portfolio, representing a portfolio weighting of 3.36%. General Motors is part of the Consumer Discretionary Select Sector SPDR Fund (XLY) with a weighting of 2.23%.
Article continues below advertisement
An overview of General Motors
General Motors sells, builds, and designs trucks, cars, and automobile parts all over the world. The automotive operations of the company meet the demands of the customers of the company via its major automotive segments: GM Europe, GM North America, GM South America, and GM International Operations. General Motors also offers services pertaining to automotive financing via the General Motors Financial Company.
As of December 31, 2013, General Motors had more than 100 locations spread across 80 cities and 25 states within the US. With annual revenues of over $155 billion, the company is ahead of its Detroit-based counterparts Ford (F) and Chrysler (FCAU). The company's selling channel to end users is primarily through auto dealerships such as AutoNation (AN), Lithia Motors (LAD), Penske Automotive Group (PAG), and CarMax (KMX).
Article continues below advertisement
4Q14 segment results
General Motors North America reported 4Q14 revenues of $25.3 billion, a 0.8% rise compared to the corresponding period last year. The company improved its adjusted EPS from $1.9 billion in 4Q13 to $2.2 billion in 4Q14. However, GM Europe witnessed a fall of 5.1% in revenues, which amounted to $5.4 billion. GM International posted a disappointing 13.2% drop in revenues, amounting to $3.8 billion. GM South America posted revenues of $3.7 billion, which represented a fall of 9.4%. GM Financial reported a significant 18% rise in revenues during 4Q14 to $1.3 billion.
Record sales expected for the US automobile sector in 2015
The recession forced several million Americans to postpone the purchase of a new truck or car. Six years after the economic recession, a forecast by J.D Power and Associates predicts that the US retail auto sales would climb to a record high level during 2015.
Despite a poor showing by the auto sector in 3Q14, analysts predict that sales of new trucks and cars at US auto dealerships will increase in 2015 to 13.83 million, which would place them above the prior record of 13.8 million during 2014. The trend is a result of a general improvement in the economy and increasing consumer demand for newer vehicles that are more fuel efficient and have cutting-edge security features and the latest in-car connectivity options.
In the next part of the series, we'll look at Caxton's sale of its holdings in Petroleo Brasileiro SA.