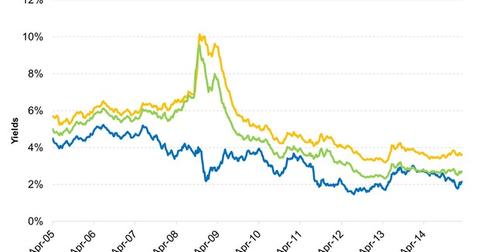 Where You Can Find Value Within Fixed Income
By Rick Rieder

Mar. 24 2015, Updated 10:06 a.m. ET
So, how do you invest in such a muddled environment? We believe owning investments that carry healthy balance sheets and offer generous cash flow is vital to investing in 2015. When that proverbial tide rolls out, owning investments that are fairly valued and that minimize the distortion that's been caused by years of central bank quantitative easing will make sense.
Article continues below advertisement
Market Realist – The relative value within fixed income lies in corporate bonds with solid balance sheets.
The graph above shows the yield on ten-year Treasuries (IEF) and on investment-grade corporate bonds (LQD) rated BBB and A by Standard & Poor's. Bonds rated A are considered to be safer than those rated BBB, which have more credit risk. The latter, though, still fall under investment-grade. Treasuries are considered the safest, with a rating of AAA.
At the moment, the yields for the three stand at 2.1%, 3.6%, and 2.7%, respectively. When the economy improves, so do credit markets. So the spread between corporate bonds BBB and those rated A and the spread between the latter and US Treasuries should contract. The opposite will happen when the economy deteriorates. During the financial crisis, BBB-rated- and A-rated corporate bonds saw a spike in their yields, as investors sought safety.
However, corporate bonds rated A include those issued by top companies like Goldman Sachs (GS), Citigroup (C), and Bank of America (BAC), which have healthy balance sheets and can easily navigate a higher-rate environment.
At the moment, though, the US economy is showing signs of improvement. If it continues to improve, corporate bonds rated BBB—which include the likes of Capital One Financial (COF)—and even high yield bonds (JNK) could perform well as credit risk decreases.