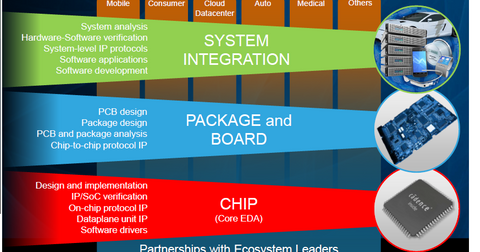 Cadence delivers end-to-end solutions in EDA and IP
By Santiago Solari

Updated
Cadence plays a key role in chip designing
Cadence Design Systems's (CDNS) customer base primarily consists of semiconductor and electronics companies. These companies utilize electronic design automation (or EDA) technology to create the chips that control products ranging from computers to coffeemakers. Cadence's robust product portfolio includes chip design, as well as verification solutions from the chip level to the end product level.
Article continues below advertisement
Strong EDA and verification portfolio
Looking at its EDA products through the Virtuoso platform, Cadence provides support for laying out transistors, wires, and chips for analog, mixed-signal, custom digital, memory, and RF designs. With the Encounter design platform, Cadence provides chip planning and design solutions for addressing power and performance requirements of digital devices. Its sign-off products offered under the Tempus and Voltus brands are used in the final stage of chip design before it is ready for manufacturing in a silicon foundry.
Through its Allegro system interconnect design platform, Cadence addresses the printed circuit board (or PCB) and integrated circuit (or IC) packaging needs of semiconductor companies.
Verification is a critical step in determining whether the circuit will function as intended. Cadence's verification offerings fall under three categories: logic, system design, and verification and intellectual property (or IP). The software-based logic verification offering enables rapid verification planning through the Incisive platform. The system design and verification products are hardware-based solutions offered under the Palladium platform.
Article continues below advertisement
Expanding IP offerings
Cadence's IP offerings relate to a chip's preverified building blocks, or core components, used in advanced System on Chip (or SoC) designs, which in turn are licensed to semiconductor companies. With the advancement in process node technology, the demand for IP has increased rapidly. To address the growing needs of semiconductor companies, Cadence expanded its IP product line through a combination of acquisitions and internal development.
While Cadence and its competitors, such as Synopsys (SNPS) and Mentor Graphics (MENT), offer IP tools, there is some debate whether this comes under EDA business. The models licensed by EDA companies ease the design process for engineers in chip designing companies by accelerating the development process and reducing the risk of errors. In this sense, IP can be broadly considered as an EDA tool. ARM Holdings (ARMH), a British multinational software design company, is the market leader in providing IP-based solutions.
ETF investors seeking to gain exposure to Cadence Design Systems (CDNS) can consider investing in the iShares North American Tech-Software ETF (IGV), which has an allocation of 1.30% in its portfolio for Cadence. Cadence is also a component of the Vanguard Information Technology ETF (VGT) and makes up 0.13% of that fund.