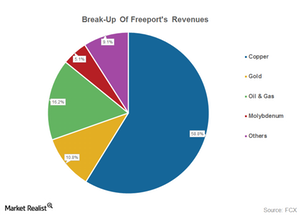 Why the breakup of Freeport's revenues is significant
By Mohit Oberoi, CFA

Mar. 20 2015, Updated 5:02 p.m. ET
Freeport's revenues
We've already seen that Freeport-McMoRan (FCX) has a diversified portfolio of mining and oil and gas assets. Now we'll look at the breakup of Freeport's revenues.
Freeport currently forms 3.35% of the Materials Select Sector SPDR (XLB). Newmont Mining Corporation (NEM) forms 2.23% of XLB. Newmont is a major gold and copper producer.
Article continues below advertisement
Breakup of Freeport's revenues
The above chart shows the breakup of Freeport's revenues. This is based on Freeport's 3Q14 revenues. As you can see, Freeport gets more than half of its revenues from copper. It's among the top three copper producers worldwide. Rio Tinto (RIO) and BHP Billiton (BHP) are the other major copper producers.
Freeport gets more than 10% of its revenues from gold. It produces gold from its mine in Indonesia. Freeport also produces silver from its Indonesian operations.
Oil and gas
Oil and gas accounts for almost one-sixth of Freeport's revenues. This includes both crude oil and natural gas. Freeport's revenues from oil and gas have risen sharply over the last couple of years. The company has made major acquisitions in the oil and gas space. However, its revenues from this sector could come down since crude oil prices have fallen by nearly 50% in the last four months.
Molybdenum accounts for ~5% of Freeport's revenues. Freeport produces molybdenum at several of its mines. It's the largest producer of molybdenum and molybdenum-based chemicals globally.
Investors should also understand the geographical breakup of Freeport's revenues. We'll look at that in detail in the next part.