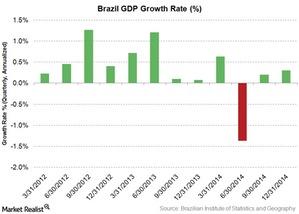 Brazilian Stocks Continue to Decline Despite a Pleasant Surprise
By Surbhi Jain

Nov. 20 2020, Updated 11:40 a.m. ET
Positive news from Brazil
There was a positive surprise from the soccer-crazy nation of Brazil on March 27. The Brazilian Institute of Geography and Statistics released its estimate for the fourth quarter growth in the Brazilian economy on March 27. The Brazilian agency now includes investment in research and development in its GDP calculations, much like its global counterparts.
Article continues below advertisement
Brazil still faces challenges and opportunities
According to the report, GDP (gross domestic product) in Brazil grew at 0.3% for the fourth quarter of 2014 compared to the 0.2% third-quarter growth rate. However, the economy recorded a meager 0.1% growth in GDP in 2014 from 2013. Compared to the same quarter last year, the GDP contracted by 0.2% in 2014 versus the fourth quarter of 2013. The Brazil-tracking iShares MSCI Brazil Capped (EWZ) lost 2.16%.
Though the GDP numbers for Q4 2014 seem to indicate improvement, they remain a pleasant surprise to investors and analysts who believe that the Brazilian economy still has a long way to recover. The structural weaknesses in the Brazilian economy, as we highlighted in our series Investor must-know: Why Brazil faces challenges and opportunities, continue to hinder growth in Brazil.
Article continues below advertisement
Growth in 2015 will be almost flat, says Joaquim Levy
In a recent interview at the World Economic Forum in Davos, Brazil's Finance Minister Joaquim Levy commented that economic growth in Brazil in 2015 will be "almost flat." This prediction could be true, especially since Dilma Rousseff's government is pushing for spending cuts and tax increases.
Brazilian stocks continue to decline
The EWZ has declined by about 44% since September 2014, which is when the dollar (UUP) started rallying, and over 17% since the beginning of the year. A good chunk of this decline is due to the corruption scandal surrounding Brazilian oil giant Petróleo Brasileiro (PBR), also known as Petrobas. Petrobras's shares have lost about 22% since the beginning of 2015. Other Brazilian firms, such as Itaú Unibanco Holding (ITUB) and Ambev (ABEV), have lost about 20% and 9%, respectively, so far this year.
Stay updated on the latest key indicators from the United States (SPY)(IVV) and the world by visiting our Global Equity ETFs page on the Market Realist website.