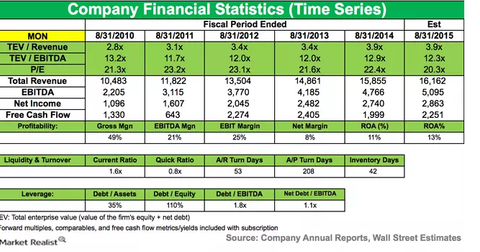 Blue Ridge Capital Exits Position in Monsanto
By Adam Rogers

Mar. 31 2015, Updated 3:05 p.m. ET
Blue Ridge Capital and Monsanto
Blue Ridge Capital has exited its position in Monsanto (MON). The investment represented 4.06% of the hedge fund's overall portfolio in 3Q14. The fund sold 3,050,000 shares worth $343 million, as per the latest 13F filings for 4Q14.
Monsanto has a 0.50% exposure to the iShares Russel 1000 Growth ETF (IWF) and a 9.63% exposure to the Materials Select Sector SPDR Fund (XLB). The IWF ETF tracks the overall performance of 678 publicly traded companies in the growth sector, while the XLB ETF tracks the performance of 31 publicly listed companies in the industrial sector.
Article continues below advertisement
Monsanto overview
Monsanto is a leading global provider of agricultural products. Its products help farmers to improve productivity, reduce the costs of farming, and produce better foods for consumers and better feed for animals. The company operates in two business segments:
Seeds and genomics: Monsanto produces seed brands that include DEKALB, Asgrow, Deltapine, Seminis, and De Ruiter. The company also develops biotechnology traits that assist farmers in controlling insects and weeds and precision agriculture to help farmers make decisions. Plus, the company also provides other seed companies with genetic material and biotechnology traits for their seed brands.
Agricultural productivity: Monsanto manufactures the Roundup and Harness herbicide brands, as well as other herbicides.
Monsanto's 1Q15 results see a decline
Monsanto acknowledged headwinds in the current agricultural environment. The company witnessed lower planted acres for corn in South America and for cotton in Australia. As a result, net sales decreased 9% year-over-year (or YoY) to $2.9 billion.
Net income declined 34% to $243 million on a YoY basis. Diluted earnings per share (or EPS) on an ongoing basis declined YoY 30% to $0.47, which was ahead of its expectations of ~$0.34.
Monsanto sued by San Diego over chemical pollution
Earlier this month, the city of San Diego filed a lawsuit against Monsanto, alleging chemical pollution in the San Diego Bay against the firm. The defendants for the case are Solutia, a company spun off from Monsanto, as well as Pharmacia Corporation, a firm that is currently owned by Pfizer (PFE) that was inherited from Monsanto Company.
The city of San Diego states that the above mentioned companies are largely responsible for contamination of the bay by "polychlorinated biphenyls, or PCBs, manufactured by Monsanto from the 1930s through the late 1970s."
The city also alleges that Monsanto continued to manufacture and sell the chemicals, knowing that they pose a threat to the environment.
The next article will discuss Blue Ridge Capital's position in The Gap (GPS).