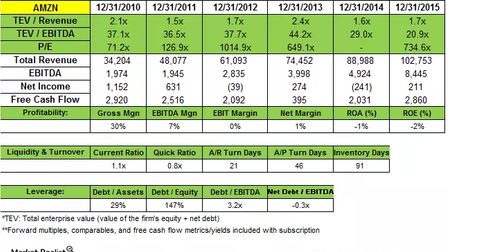 Blue Ridge Capital Exits Position in Amazon
By Adam Rogers

Updated
Blue Ridge Capital and Amazon
Blue Ridge Capital has exited its position in Amazon (AMZN). The investment represented 2.57% of the hedge fund's overall portfolio in 3Q14. The fund sold 675,000 shares worth $217 million, as per the latest 13F filings for 4Q14.
Article continues below advertisement
Overview of Amazon
Amazon is an American-based e-commerce company founded in 1994 and headquartered in Seattle. It is the largest Internet-based retailer in the United States. Amazon has separate retail websites for United States, United Kingdom and Ireland, France, Canada, Germany, The Netherlands, Italy, Spain, Australia, Brazil, Japan, China, India, and Mexico. Amazon India will soon start offering music, movie, and video streaming services in India.
E-commerce provides low margins and high growth
Even though e-commerce is growing at a rapid pace in developing countries ($1.47 billion in 2014 to $1.70 billion in 2015), the operating margins for global players like Amazon (AMZN) and eBay (EBAY) continue to decline.
Amazon reported an operating margin decline from -0.1% in 3Q13 to -2.6% in 3Q14, while eBay reported a decline in operating margin from 26.8% to 23.7%.
One of the main reasons associated with low operating margins in the e-commerce sector is the additional overhead costs, including shipping and the cost of handling returns, in addition to the competitive prices that companies have to maintain online. For example, shipping costs as a percentage of revenues for Amazon have increased from 8.9% in 3Q13 to 9.8% in 3Q14.
Article continues below advertisement
Amazon's 4Q14 results beat profit forecasts
In January 2015, Amazon declared its 4Q14 results and reported net income of $214 million and profits of $0.45 per share. Amazon posted revenues of $29.33 billion in the period, missing analysts' forecasts of $29.84 billion.
Net sales increased 15% to $29.33 billion in 4Q14, compared with $25.59 billion in 4Q13. Excluding the $895 million of unfavorable impact from year-over-year changes in foreign exchange rates throughout the quarter, net sales increased 18% compared to 4Q13, as the firm benefited from the holiday season. Better-than-expected earnings per share and a robust operating income of $591 million led investors to brush aside a weak outlook on the company.
While Amazon stock shot up on the positive developments, eBay (EBAY) and Google (GOOG)(GOOGL) stocks have not. Another peer, Alibaba (BABA), saw its stock decline by 18% in the last month.
Investors seeking more diversified exposure should consider the iShares Russell 1000 Growth ETF (IWF), which invests 1.27% of its holdings in Amazon.
Amazon 1Q15 guidance
The 1Q15 guidance for Amazon is as follows:
Net sales are expected to be between $20.9 billion and $22.9 billion, or to grow between 6% and 16% compared with the first quarter of 2014.
Operating income (loss) is expected to be between $(450) million and $50 million, compared to $146 million in the first quarter of 2014.
This guidance includes approximately $450 million for stock-based compensation and amortization of intangible assets, and it assumes, among other things, that no additional business acquisitions, investments, re-structuring, or legal settlements occur and that there are no further revisions to stock-based compensation estimates.
The next article will discuss Blue Ridge Capital's position in Avis Budget Group.