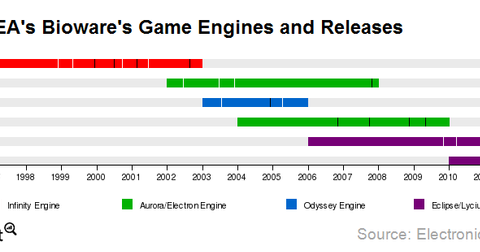 Why Bioware is integral to Electronic Arts' success
By Anne Shields

Updated
Bioware's acquisition was intended to strengthen EA's position in interactive entertainment
In the earlier part of this series, we saw how Electronic Arts (EA) generates revenue from various studios, including BioWare. BioWare joined Electronic Arts in 2008, when EA paid $860 million to acquire VG Holdings, a game development parent company for BioWare and Pandemic Studios, from private equity firm Elevation Partners.
BioWare, since its inception, has developed console and PC role-playing games that focus on stories, characters, and vast worlds to discover. This acquisition strengthened EA's position in the action, adventure, and role-playing gaming industry.
You can consider investing in the PowerShares QQQ Trust (QQQ) and the Technology Select SPDR (XLK) to gain exposure to Electronic Arts. EA makes up about 0.35% and 0.47% of these ETFs, respectively.
Article continues below advertisement
Bioware also, in part, developed the massively multiplayer online (or MMO) game Star Wars: The Old Republic. The game initially started as a subscription product but later became free-to-play. The game took six years to complete. We'll discuss the decision to make the game free to play in a later part of this series. Other notable titles in Bioware's portfolio include Baldur's Gate, Neverwinter Nights, Star Wars: Knights of the Old Republic, Jade Empire, Mass Effect, and Dragon Age.
The above graph shows BioWare's in-house game engines and notable releases over the years. In 2013, EA announced that all its future games will be made on EA DICE's Frostbite 3 engine. Both Dragon Age Inquisition and the upcoming Mass Effect installment are based on the Frostbite 3 engine. This engine should mean a unified technology foundation across all of Electronic Arts' developer studios.
Dragon Age Inquisition is available on Microsoft's (MSFT) Xbox One, which is available through Amazon (AMZN).