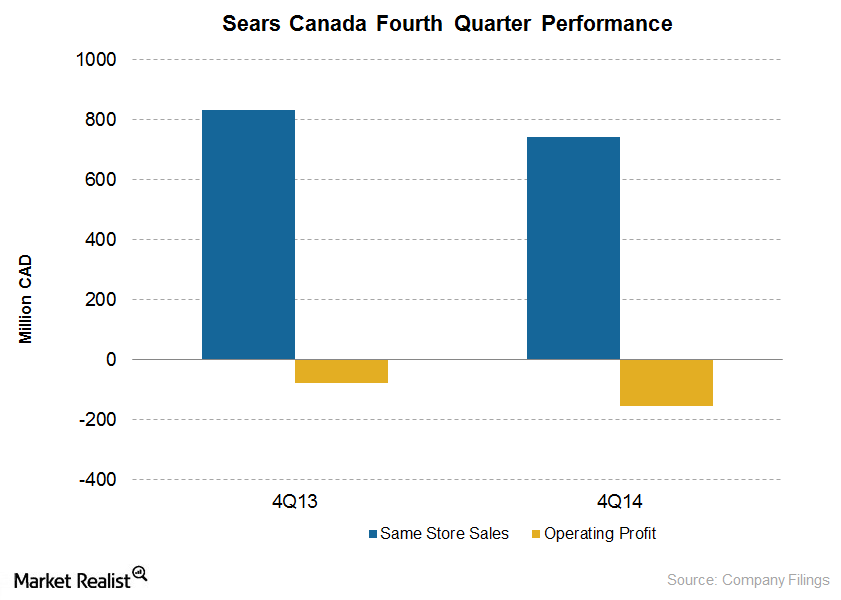 Berkowitz's Fund Establishes Stake in Sears Canada
Fairholme and Sears Canada
In 4Q14, Fairholme revealed a new position in Sears Canada (SRSC). The position was created soon after Fairholme's participation in Sears Holdings's (SHLD) rights offering to sell 40 million shares of Sears Canada to SHLD's shareholders back in October 2014.
Berkowitz's fund received approximately 40% more than the prorated amount of shares due to oversubscription rights. As of 4Q14, Fairholme's position in Sears Canada stands at 14.1 million shares, or 1.86% of its portfolio. In a recent amendment to its 13G, Fairholme disclosed a 13.5% ownership position in SRSC.
Article continues below advertisement
Company profile
Sears Canada is one of Canada's largest department store chains, with close to 171 corporate stores. Sears Canada also has 201 hometown dealer stores that sell apparel, home goods, and appliances. In addition, the company runs Canada's largest catalog operation, with more than 1,300 locations. Sears Canada also sells merchandise online through its website.
Sears Holdings completes rights offering of Sears Canada
After failing to find a suitable buyer in October 2014, Sears Holdings (SHLD) reduced its stake in Sears Canada to 12% from 51% through a rights offering of 40 million shares to its own shareholders. Although Sears Canada's management team underwent changes after this move, Sears Holdings CEO and chairman Edward Lampert continues to retain a majority stake in Sears Canada through his investment holding company, ESL Investments.
Article continues below advertisement
Management team commits to Canadian marketplace
The retail environment for the Canadian market is viewed to be challenging when compared to the US market due to high variability in regional preferences in Canada. Despite its longstanding presence in Canada, Sears Canada has faced increasing competition from Walmart (WMT), Target (TGT), and e-commerce players such as Amazon (AMZN).
To counter competitive pressures and to operate with a leaner cost structure, Sears Canada sold many of its leases worth $400 million in 2013 and reduced its workforce by 3,000 employees. Target (TGT) exited its Canadian retail operations in January 2015 as its losses continued to mount. Target's exit can be attributed to its failure to understand the tastes of Canadian consumers.
Sears Canada's newly appointed CEO Ron Boire attributed Target's exit from Canada to its "cookie cutter" strategy. He also asserted that Sears Canada is committed to creating long-term relationships with Canadian consumers while maintaining its focus on product development, infrastructure improvement, and prudent expense management.
Financial performance deteriorates
In 4Q14, Sears Canada evidenced a 17.7% YoY (or year-over-year) decline in its revenue to $972.5 million, due to a continued fall in same-stores sales. Operating loss widened to $154.7 million from $77.7 million in 4Q13 due to impairment charges related to leasehold improvements. As a result, the company reported a net loss of $123.6 million against net earnings of $373.7 million in 4Q13.
Investors seeking to gain exposure to the retail sector can consider investing in the SPDR S&P Retail ETF (XRT), which has a 1.04% weight in Sears Holdings (SHLD).