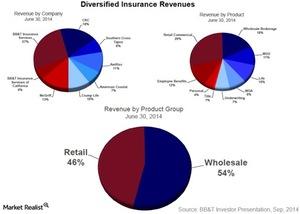 Why BB&T's Insurance Services Revenue Is Diversified
By Rekha Khandelwal, CFA

Apr. 6 2015, Updated 8:06 p.m. ET
Diversified subsidiaries
BB&T's (BBT) Insurance Services segment has diversified revenue between retail and wholesale markets as well as by insurance product types. The segment offers services through a number of subsidiaries in the retail and wholesale segments.
Major subsidiaries in the retail segment are:
BB&T Insurance Services Inc. – focused on small to mid-sized accounts in BB&T's banking footprint
BB&T Insurance Services of California Inc.
McGriff, Seibels & Williams Inc. – focused on large accounts included in the Fortune 1000
The wholesale market subsidiaries include:
CRC and Crump P&C – ranked the second property and casualty wholesaler in the US
Tapco Underwriters
AmRisc LLP – focused primarily on wind-based, catastrophe-prone property
American Coastal Insurance Company – underwrites Florida-based commercial condominium properties
Crump Life Insurance Services – ranked the first wholesale life insurance distributor in the US
The above graphs show the revenue diversification of BB&T's Insurance Services segment by product group, product, and company. BB&T forms ~1.3% of the iShares U.S. Financial Services ETF (IYG).
Article continues below advertisement
Diversification reduces risk
Since different factors drive different products, balancing the product mix helps make the revenue stream less volatile. Property and casualty insurance is driven by catastrophes and reinsurance costs. The employee benefits segment is driven primarily by the healthcare market and associated cost factors.
Life insurance is driven by age demographics, wealth accumulation, and tax and estate planning. Life insurance revenue is more stable than property and casualty insurance. Property and casualty insurance tend to be more volatile.
Aon Plc (AON) and Marsh and McLennan (MMC) are other leading companies in the insurance broking segment. Wells Fargo (WFC) is the only bank among the "big four" banks that has significant insurance broking revenue. The insurance sector is ~17% of the Financial Select Sector SPDR ETF (XLF).