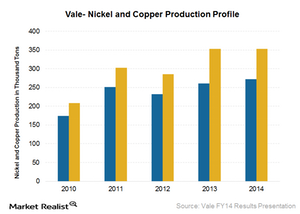 Is Base Metals IPO a Near-Term Possibility for Vale?
Record high production, still short of guidance
Vale S.A.'s (VALE) annual nickel production of 275,000 tons was the highest annual mark since 2008. However, this is short of the company's guidance of 289,000 tons due to some operational issues in 4Q14.
Copper production also hit an annual record of 379,700 tons in 2014. This was 9,600 tons higher than in 2013. Production was 25,300 tons lower than Vale's guidance for the year, mainly due to tie-ins between Salobo I and II as the company continues to ramp up the second line of Salobo.
Article continues below advertisement
Nickel prices drive strong financial performance
Revenues from base metals and their by-products totaled $7.7 billion in 2014 against $7.3 billion in 2013. The increase in revenues was mainly driven by higher volumes of nickel and copper concentrate from Vale's Brazilian operations. Revenues were also favorably impacted by higher nickel prices, which were partially offset by lower copper prices.
Base metals adjusted EBITDA (earnings before interest, taxes, depreciation, and amortization) totaled $2.5 billion in 2014. This was an increase of $882 million, or 53.8% higher than in 2013. Higher nickel prices and volumes of both nickel and copper more than offset the weaker price scenario for copper in 2014.
Outlook positive
In 2014, the nickel market didn't fully reflect the impact of Indonesia's ban on nickel ore exports. This was because it was counterbalanced by China's destocking of nickel ore inventories.
Going forward, Vale anticipates reduced stockpiles of high-grade ore, which will result in decreased production of nickel pig iron, leading the market toward a deficit.
Meanwhile, difficulties in the ramp-up of new copper projects are decreasing expectations for supply growth in 2015 and oversupply. According to the company, as the year progresses, the market is anticipated to tighten as demand picks up.
However, the nickel market isn't picking up as analysts expected following Indonesia's ban on nickel exports. MMC Norilsk Nickel (NILSY) has projected flat nickel production in fiscal year 2015. BHP Billiton (BHP) and other copper producers, including Freeport-McMoRan (FCX), expect the copper market to pick up going forward.
Vale's management has indicated that it could go for base metals IPO (initial public offer) if it can generate EBIDTA of $4 billion to $6 billion against $2.5 billion in 2014. Management said that could happen if nickel prices rally.
Investors should also consider investing in ETFs such as the SPDR S&P Metals and Mining ETF (XME) that provide exposure to the metals and mining sector. Freeport-McMoRan (FCX) forms 3.3% of the ETF's holdings.