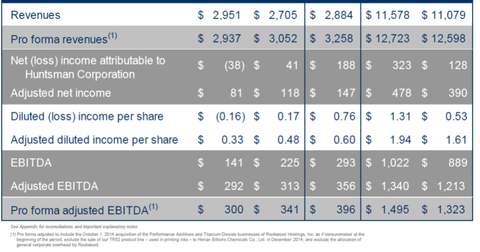 Ascend Capital's New Position in Huntsman Corp.
By Adam Rogers

Updated
Ascend Capital and Huntsman Corp.
Ascend Capital started a new position in Huntsman Corp. (HUN). The fund bought 2,799,273 shares worth $63 million. According to the latest 13F filings for 4Q14, it accounts for 2.45% of the hedge fund's total portfolio.
Huntsman has 0.06% exposure to the iShares Russell Mid-Cap ETF (IWR). It has 0.03% exposure to the iShares Russell 1000 Growth ETF (IWF). IWR tracks the overall performance of 841 publicly traded companies in the "growth" sector. IWF tracks the overall performance of 678 companies.
Article continues below advertisement
About Huntsman
Huntsman is a global manufacturer of differentiated organic chemical products and inorganic chemical products. It operates in five segments: polyurethanes, performance products, advanced materials, textile effects, and pigments.
The company's products are used in a wide range of applications—including those in the adhesives, aerospace, automotive, construction products, personal care and hygiene, durable and non-durable consumer products, electronics, medical, packaging, paints and coatings, power generation, refining, synthetic fiber, textile chemicals, and dye industries.
Huntsman was founded in 1982. It's headquartered in Texas.
4Q14 and full-year results miss estimates
In February 2014, Huntsman declared its 4Q14 results. It reported revenue of $2.95 billion—compared to revenue of $2.70 billion for 4Q13. Huntsman's net loss was $38 million—compared to a net income of $41 million in the same period the previous year. The EPS (earnings per share) for 4Q14 was $0.33—compared to $0.48 in the same period the previous year.
The adjusted EBITDA (earnings before interest, tax, depreciation, and amortization) was $292 million—compared to $313 million in 4Q13. EBITDA was impacted by $11 million due to unfavorable foreign exchange fluctuations.
The main reasons for the reported loss were unfavorable US currency fluctuations and lower sales volumes and selling prices.
Article continues below advertisement
Full-year results
For fiscal year 2014, Huntsman reported revenue of $11.57 billion—compared to $11.07 billion in 2013. The adjusted EBITDA was $1,340 million—compared to $1,213 million last year. The EPS was $1.94—compared to $1.61 the previous year. This was an increase of 20%. Huntsman's net income was $323 million—compared to $128 million the previous year.
Huntsman acquired Rockwood Holdings' businesses
In October 2014, Huntsman completed its $1 billion acquisition of Rockwood Holdings' (ROC) Performance Additives and Titanium Dioxide, or TiO2, businesses. Huntsman's management expects to create synergies of $130 million after the acquisition.
Peter R. Huntsman is Huntsman's president and CEO. He said that the acquisition will "broaden our product offering and further enable our ability to build the most competitive and successful pigments and additives business in the world." He add that "The majority of earnings over the past 12 months have come from their specialty and niche TiO2 businesses, demonstrating the diversity and breadth of the business we are acquiring."
Stock performance
Huntsman had a stock return of -1% in the last 12 months. In contrast, Dow Chemicals (DOW) had a 2% return in the same period.
In the next part of this series, we'll discuss Ascend Capital's position in Constellation Brands.